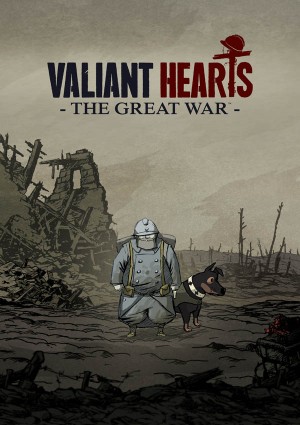 During Gamescom, Ubisoft announced that they were bring Valiant Hearts: The Great War to iOS as a universal app next month. The colorful puzzle-adventure game will be available on the App Store on September 4th. It was released last year on PC and console.
Set during World War I, Valiant Hearts is a love story: Karl, a German soldier, is in love with Marie, the daughter of a French prisoner of war named Émile. You'll play as both Karl and Émile during the game, but also as Freddy, an American volunteer, and Anna, a nurse caring for the wounded doughboys in the trenches. Accompanied by a dog named Walt, each of your four protagonists has a special skill that will help them navigate the Western Front's labyrinth of chlorine gas, shrapnel, and muck. Valiant Hearts seems like it'll have its fair share of wheel-cranking and lever-pulling, but you can also spot some action sequences in the trailer below.
Valiant Hearts' other hook is that real-world facts about the First World War are littered throughout its cartoon versions of Neuve-Chappelle, Verdun, and the Marne. The story was partly inspired by the letters and postcards of Félix Chazal, a French solider and great-grandfather to Yoan Fanise, a Valiant Hearts producer at Ubisoft Montpelier.
Like Ubi Montpelier's previous games (Rayman Legends and Origins), Valiant Hearts is powered by the UbiArt Framework platform, which allows for butter-smooth animation and bright, vibrant art. I think the game looks great.
The announcement press release for Valiant Hearts includes the usual spiel about optimized controls and social media integration, but it also mentions that the game will be released episodically, "allowing players to play the game the way they want." This actually isn't very clear:it could mean in-app purchase for each chapter of the game, or a staggered, Telltale-style schedule. We've followed up with Ubisoft and will clarify when we can.