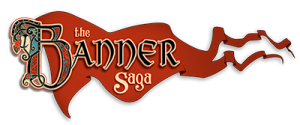 There's a very interesting interview over on Polygon with Stoic Studios, developers of the hit tactical adventure title The Banner Saga which launched on Steam back in January and is on its way to the iPad. In the interview Stoic touches on what it's like developing a game as a fledgling indie studio, and two things in particular really stood out to me.
First they talk about how the introduction of the iPad and Superbrothers' Sword & Sworcery game were two key factors that made the team realize that "going indie" was something they could be successful at. Talking about the trepidation of leaving their jobs at larger game companies and forming their own studio, Stoic co-founder Arnie Jorgensen says "And then I got an iPad and picked up Sword & Sworcery, which is a badass art game. It blew my mind — it was a small team, and I thought, 'Wow, this is really possible now.' That's what kind of kicked off the whole idea of staying in games, which I love, but I could move to a smaller team and go independent and still make a living. The iPad, I think, kicked that whole thing into gear."
Another interesting point related to that is that the aforementioned port of The Banner Saga to iPad has been relatively painless, mostly because they designed the user interface from the start to be playable with just one finger. "You could play the entire game on PC with your left mouse button." says John Watson, also a Stoic co-founder.
The Banner Saga had always been destined for the tablet platform, but during its development Stoic decided that they wanted to target PC first, mostly due to how unstable the whole world of mobile has been over the years. During the time that The Banner Saga was being developed, there weren't a whole lot of examples of games that could sell at the higher price points needed to ensure the project was successful. As most people know, there was a "race to the bottom" mentality where everything above a dollar was considered too much, and following that the free to play model has become prevalent. Neither of those avenues sounded very appealing for a small studio that was just starting out to bank their future on.
Thankfully, it feels like the mobile market is starting to stabilize somewhat. Sure, there are more free to play games coming out every week than there are hairs on my head, but recently there's been a trend of developers highlighting the fact that their games are "buy once with no in-app purchases" offerings. I think more and more developers are realizing they can make a profit by focusing on a smaller segment of the iOS audience that's willing to pay more for those premium experiences, rather than thinking they have to go after the much larger free to play casual market.
The second really interesting thing to come out of this interview is that, according to Watson, Apple is also sick of the race to the bottom mentality and rampancy of free to play games. "Apple is frustrated, along with everybody else, about the mentality that's gone rampant in mobile app markets, where people don't want to pay anything," says Watson. "They think that four dollars is an exorbitant amount to pay for a game, which is very illogical considering most people's lifestyles. They'll spend $600 on an iPad, and $4 on a coffee, drop $20 on lunch, but when it comes to spending four or five dollars on a game, it's this life-altering decision. I'm frustrated with that too."
Well said. And it echoes a lot of what other developers have told us at conferences like GDC and WWDC. Apple makes some of the best high-end mobile devices on the market, but their App Store is flooded with crap, and they want to change that.
Based on the critical acclaim that The Banner Saga has seen since its launch on PC, I definitely think it's the sort of game that can fetch a larger price on the App Store. What that price will be still remains to be seen, though, as Stoic still hasn't settled on that. Apple is in fact working directly with Stoic to help them come up with the best pricing plan for the game, and is especially keen on things that can push the hardware of a device like the iPad Air. One thing that's for sure though, and probably goes without saying, is that The Banner Saga on iPad won't be free.
The iPad port of The Banner Saga is nearing completion, and right now Stoic is just left optimizing the game as much as possible. It should be arriving sometime later this summer. In the meantime, be sure to read the full interview over at Polygon for even more insight on Stoic and their feelings on free to play, the development of The Banner Saga and its future, and much more.
[Polygon]