It's another Wednesday night filled with new iOS game releases, but for many people out there today is simply "Modern Combat 5 release day." And that's cool, I totally get it, we've been waiting a long, long time for Gameloft's latest FPS. Luckily, it looks like it was worth the wait. Check out our review of the single-player portion of the game, and look for a review of the multiplayer portion soon. Besides that major release, there's also a surprise arrival of Teenage Mutant Ninja Turtles, the official mobile game of the upcoming movie. It's a beat 'em up made by the guys who made Combo Crew, so I've got high hopes for it.
---
Astro Duel
iTunes Description
Astro Duel is a competitive local multiplayer game for iPad.

Inspired from endless nights of Super Bomberman, rounds are quick and death is sudden. 2 to 4 players blast each other using asteroid-style ships. The goal: KILL KILL KILL!!
Forum Thread: Astro Duel (by Rusty Moyher)
---
Dance Party for Apple TV
iTunes Description
Dance Party is a rhythm game where you mimic the movements of onscreen dancers using your iPhone or iPod Touch while we precisely track your movements using patent pending rolomotion to tell you how well you are doing!

No extra hardware needed! See it to believe what your Apple TV is capable of doing – experience console motion gaming experience without the need for Wii, PlayStation or Xbox. Your Apple TV is more powerful than you think.

Organise a local turn based dance tournament for that fun family game night or Dance together with your friends by simultaneously connecting 4 iOS devices together at a party! And of course, you can dance solo too!
Forum Thread: Dance Party for Apple TV – (by Rolocule Games)
---
Dream Revenant
iTunes Description
You are Carson Hughs, a man haunted by a forty-year-old mystery. Only now, on your deathbed, buried in the dreamscape of your own subconscious mind, can you confront and perhaps unravel the dark secrets of your past. But beware: all answers come with a price. And some secrets… are meant to stay buried. Dream Revenant presents a uniquely narrative gaming experience, featuring a massive open world environment, dramatic voice characterizations, and unparalleled graphic depth, optimized for the advanced capabilities of the latest Apple devices.
Forum Thread: Dream Revenant – (by Bulkypix)
---
Fish & Shark
iTunes Description
We love games with easy controls, awesome graphics and multiplayer actions. So we created Fish and Shark. It's the first one of a new collection. Prepare yourself to discover something fresh!

Do you have a nervous or elegant thumb? Anyway, use it to jump. Big jump or small one, it depends on you and the time you'll press the screen. It's easy and accurate. A new experience of gravity for sure.

It's really at the core of the game. Only two modes – fish or shark. Start to swim with the first one. It's elegant and nice. And when you'll want something special, play with the shark. And you'll be surprised.
Forum Thread: Fish & Shark – (by By odenis studio)
---
FunShui
iTunes Description
Fun Shui is a game based on the principles of Feng Shui. The Productive and Destructive Cycles and Five Elements theory are built into the game's tutorial.
Player enters name, gender, birthdate and the game determines his/her personal trigram.

The objective is to build each room according to the personal trigram and to earn high scores to open the next room. Master Ebisu guides the player through the tutorials. The player will choose and arrange furniture pieces for each room. Coins are earned on high scores with option to purchase more in order to advance.
Forum Thread: FunShui – (by Angelita Ambrosio)
---
The Great Prank War
iTunes Description
When Gene, the manager of rival park East Pines, gets his hands on a time machine, he goes back in time so he can win the prank war and take over the park. Now it's up to our heroes to take it back, but it won't be easy! The game also features awesome new character designs and animation styles for maximum prankiness.

In an action-packed hybrid of tower defense, you'll assault enemy towers and take them out so you can build defensive towers of your own, all while battling Gene's endless army of park rangers, animatronic bears, feral hot dogs, dancing cassette tapes, and more!
Forum Thread: The Great Prank War – (by Cartoon Network)
---
Indiginauts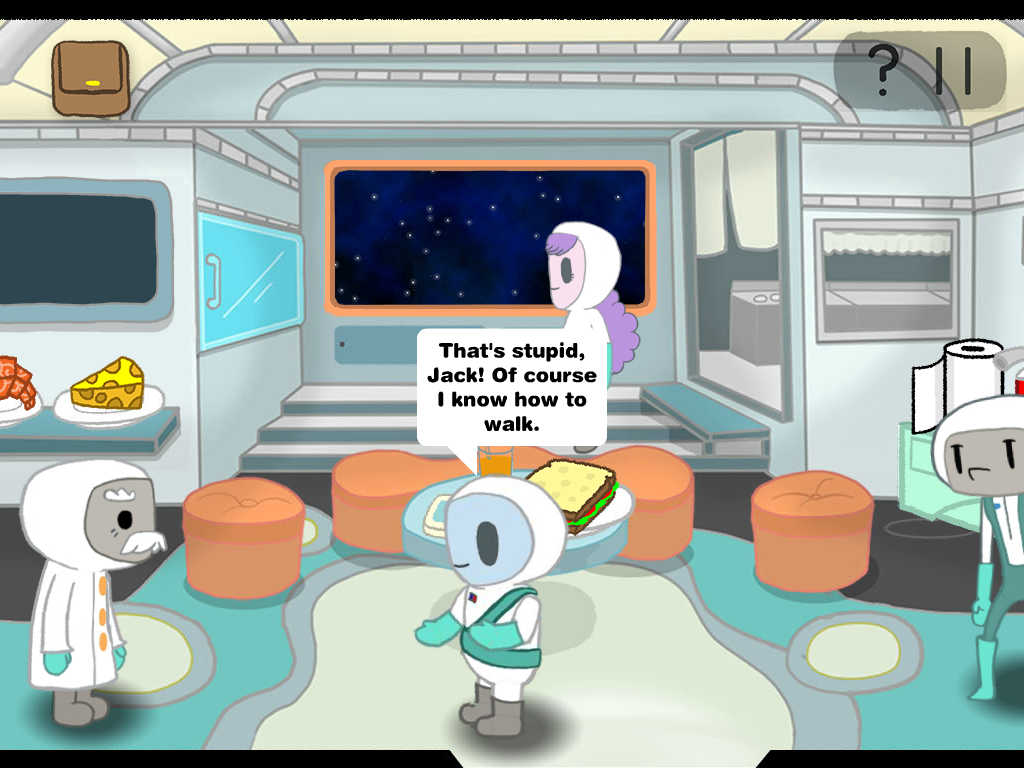 iTunes Description
Fix a toilet, repair a reactor, save the world? This point and click adventure follows repairmen who just want a job, but end up getting stuck in problems that save the galaxy.
Forum Thread: Indiginauts – (by Suspended Belief Studios)
---
Jet Storm 3D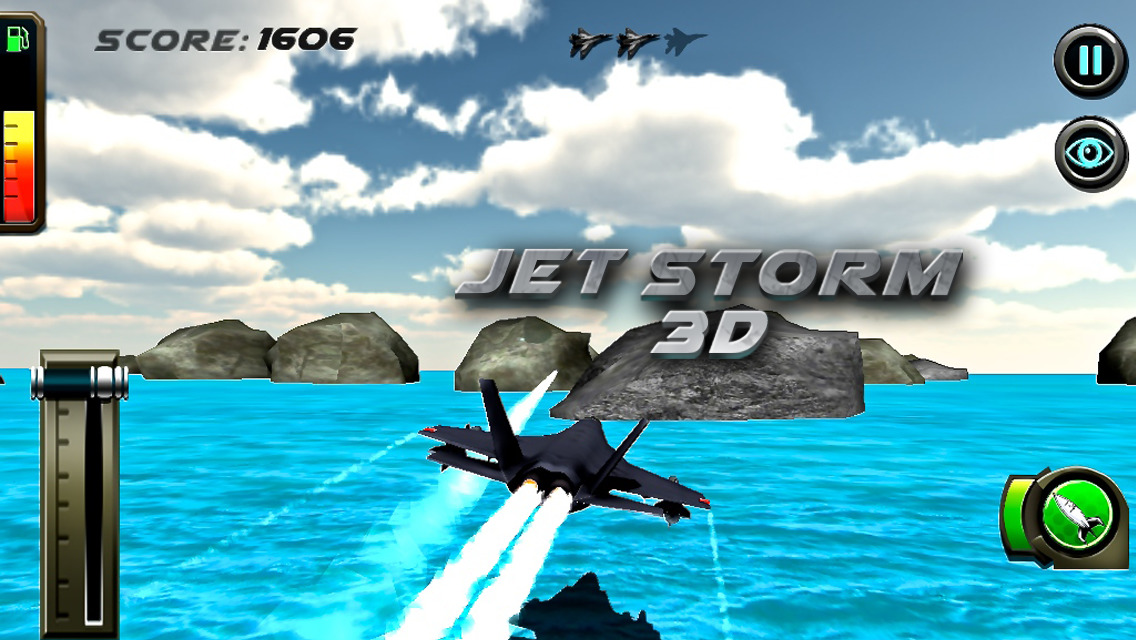 iTunes Description
Jet Storm 3D is a high-speed Jet sortie game that use the accelerometer controls.
The enemy radars are searching for your Jet and you fly low to avoid radar detection. You take advantage of the terrain masking to avoid getting tracked on the radars.

The goal is to fly your Jet low over the ocean and get the highest possible score by flying as far as possible. You are equipped with Missiles on-board and get constant supply of fuel as you cross each zone successfully.

An array of Power-ups, Missile packs and Supersonic Speed-boosters will help you all along the way.
Forum Thread: Jet Storm 3D (by Whitefield Games Studio Pvt Ltd)
---
Jumpi Jumpo
iTunes Description
No more boring tapping. No dull action to jump or slice. The coolest of cool games has come to deliver a completely new fun. Ready to make a quirky journey with a wacky gameplay? Jumpi Jumpo (Pull in Cool Games) is a magic creature in which you will pull and pull smartly to expose to a whole new world.

Now: Pull the ground skillfully to launch yourself and shoot monsters. Pull fast to get more apples and dash to kill more. Pull to jump high and higher to get bonus secrets. An awesome hand-drawn world to spend time discovering. With a brand new and unique gameplay, Jumpi Jumpo (Pull in Cool Games) is likely to make your brain work more and create your own way to play. Master your own skills to travel farther to get more fun and surprises.
Forum Thread: Jumpi Jumpo – Funny and Simple tap-to-dodge game
---
Kings & Corpses
iTunes Description
Kings & Corpses is a Chess-like puzzle game where you need to defend the king from the zombie infection! Each level is randomly generated, making each round a unique challenge. This game was built in just two weeks for a class, and polished for another couple days after that.
Forum Thread: Kings & Corpses (by Danny Perski)
---
Knight Girl
iTunes Description
The Knight Girl is a match-3 puzzle game from the developers of popular Tap the Frog series. Welcome to the magic kingdom of the Knight Girl! Embark on a journey full of adventure, new encounters and victories!

Addictive gameplay, numerous levels and a timeless quest of love and happiness!
Explore the mysterious world of the Knight Girl, meet its inhabitants and expand your horizons! On your way, you will meet colorful characters that will share with you their secrets of happiness.
Various game bonuses and features allow for a fresh look at the classic match-3 gameplay.

Answer the call of adventure with the Knight Girl!
Forum Thread: Knight Girl (by Playfo)
---
Meerkatz Challenge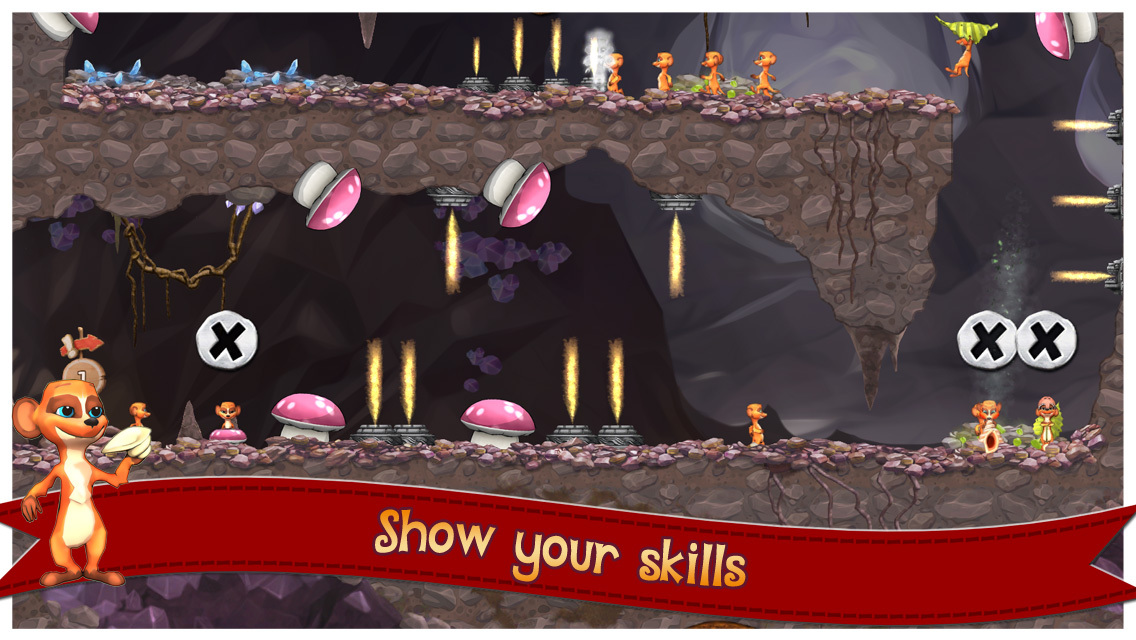 iTunes Description
The African Serengeti has become too crowded and noisy for our clan of meerkats!
The Meerkats must find a new home, but their fate is in your hands. Protect the clan from enemies and from themselves as they journey across the jungles and plains of Africa.
Help the meerkats jump, hide and dodge deadly enemies, formidable obstacles and numerous lethal dangers as they search the world for peace, tranquility and safety.
With meticulously detailed hand-crafted levels, Meerkatz Challenge strikes the ideal balance between cuteness overload and puzzling perfection.
Forum Thread: Meerkatz Challenge (By Travian Games GmbH)
---
Mesa
iTunes Description
Freeze. Bomb. Steal. Destroy. Win.

Welcome to MESA: a completely original game of strategy and friendly domination. Carefully select tiles to fuse powers and decimate your opponent in head-to-head gameplay. This game requires Game Center.
Forum Thread: MESA: A Game of Strategy & Friendly Domination – (by Forest Giant)
---
Modern Combat 5: Blackout
iTunes Description
Step into the action as the latest instalment in the best FPS series raises the bar for shooters once more! Create a squad, add your friends and test your individual and team skills against other squads!

Is single player your thing? Then step into a world on the brink of anarchy and shoot your way out of one dire situation after another to expose a lunatic who's trying to tear the world to shreds.
Forum Thread: Modern Combat 5: Blackout – (by Gameloft)
---
Nimian Legends: BrightRidge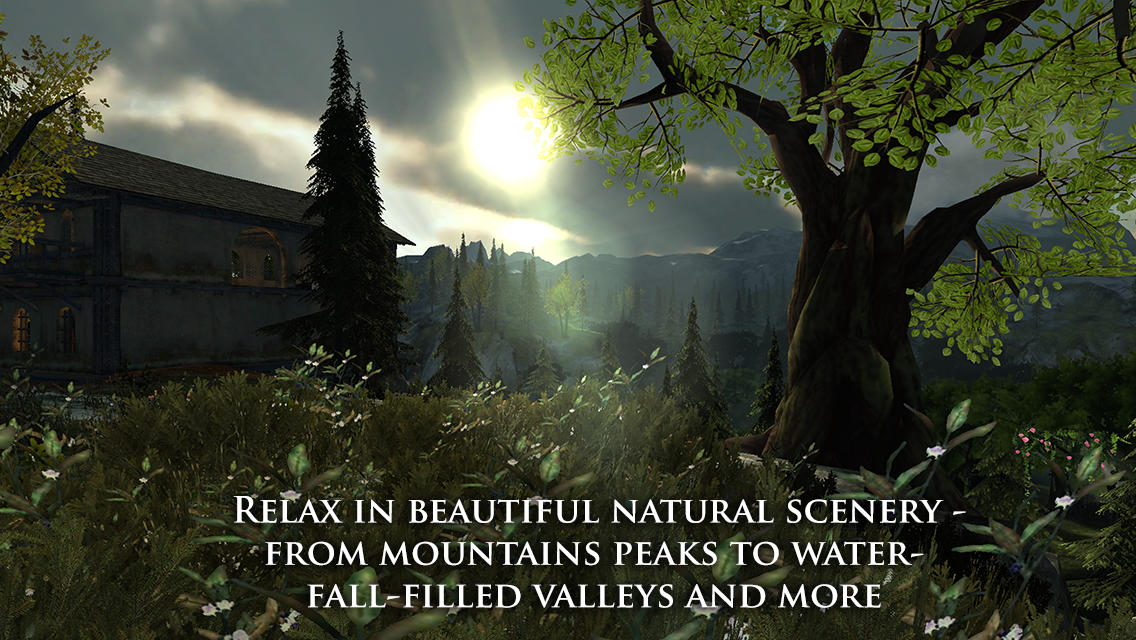 iTunes Description
LOSE YOURSELF IN A VAST OPEN-WORLD FANTASY WILDERNESS

Experience total freedom as you run, swim and even fly anywhere in a large 3d world, unlocking new abilities and learning the legends and lore of BrightRidge. Explore a world where violence is optional and exploration is the key. Discover BrightRidge explore its beautiful forests, raging rivers and mountain peaks.
Forum Thread: Nimian Legends : BrightRidge – (By Robert Kabwe)
---
Noah Ark Builder
iTunes Description
Survive the flood by building an Ark in this exciting match-3 game! Gather your supplies to complete each level and advance to the next stage. Construct the Ark and see previews from the film as you proceed in the game. Can you make it before the storm comes?
Forum Thread: Noah Ark Builder – (by Paramount Digital Entertainment)
---
Ocean Tales
iTunes Description
Sail the world and build a unique town!
Explore different parts of the world, trade for goods, harvest fruits and vegetables, and decorate your town!
Forum Thread: Ocean Tales – (by GAMEVIL Inc.)
---
Perplexity: Neon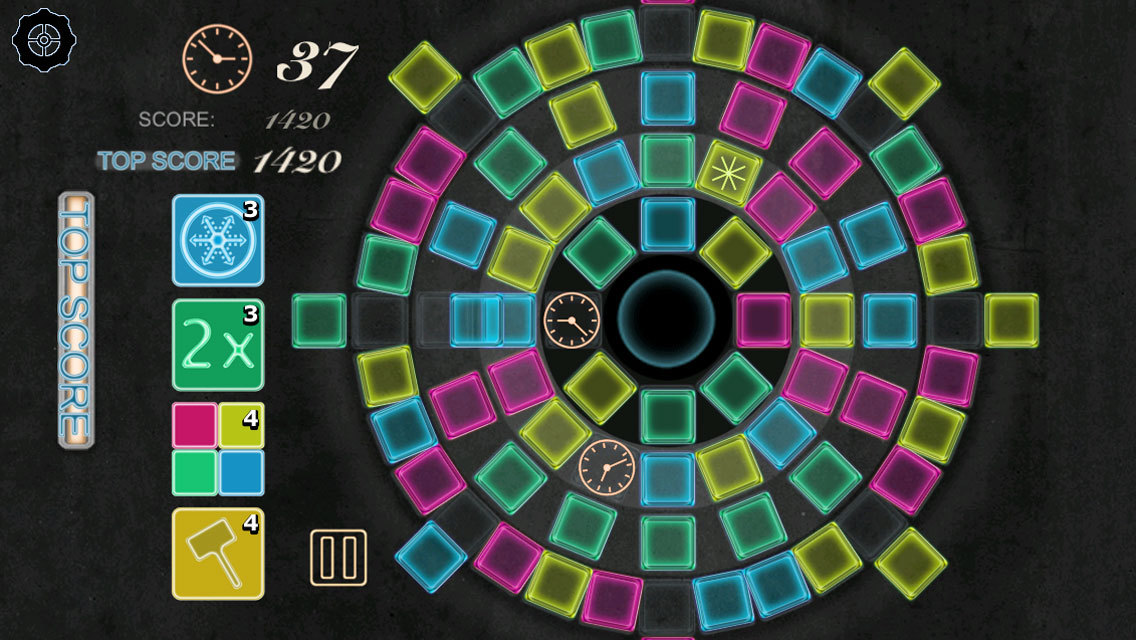 iTunes Description
Perplexity has gone Neon! The new beautiful interface is a welcome add-on to the unique gameplay of Perplexity.

∙It's easy to pick up! The rules are familiar, but the design is totally new
∙Takes the match 3 genre and flips it upside-down, literally!
∙A leaderboard to compare your scores with your friends
∙Power Ups for every style of playì
∙Compatible with all iOS devices
∙It's free! So what are you waiting for?
Forum Thread: Perplexity: Neon – (by BlindSpot)
---
The Phantom Pi
iTunes Description
The Phantom PI Mission Apparition is a spooky, puzzly, rock'n'roll fueled adventure game starring a paranormal investigator who specializes in helping ghosts who are being bullied in the afterlife.

Step into the shoes of The Phantom PI and explore a huge haunted mansion, solve devious puzzles and avoid diabolical traps on your way to helping deceased rock-n-roll legend Marshall Staxx escape the torment of a larcenous ghoul named Baublebelly.

Upon arriving at Ravensmaw Manor, an infamous haunted house which Staxx bought shortly before his sudden (and some say cursed) rise to fame, the Phantom PI quickly realizes that the old house is a maze of strange passages and interconnected puzzles that will require his keen investigative skills to solve.
Forum Thread: The Phantom PI Mission Apparition – (by Rocket 5 Studios)
---
Poptile
iTunes Description
Poptile is a super fun and easy game: all you have to do is to break tiles!

But be careful, Poptile is also tricky: a new line is added after each turn!

How long can you prevent the tiles from filling the screen?
Forum Thread: Poptile – (by 1Button SARL)
---
Puzzix
iTunes Description
This simple, intuitive puzzle challenge provides 60+ levels of interactive gameplay. PUZZIX combines eye-filling color, and smooth, easy-to-use controls to give you more fun per second.

• How do you play it?

Simple. Just drop a flowing piece onto a matching piece below. Connect three or more and score — and if you connect four or more, there just might be a surprise. But keep an eye on the clock — and the descending boundary line!
Forum Thread: Puzzix – (by Oz Machine)
---
Revolution 60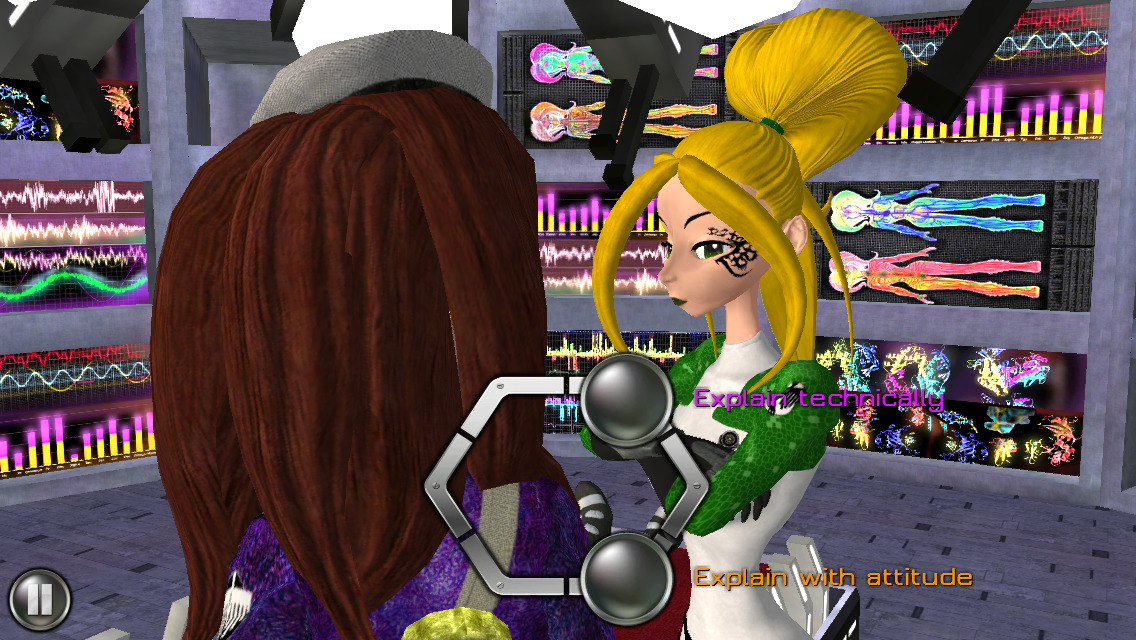 iTunes Description
Revolution 60 is a breakthrough game for iOS, using the strength of the touch interface to tell an intense, movie-length story. It features gorgeous animations using the Unreal Engine and has gameplay that is accessible to the casual iOS user. It is fully voice acted, and lovingly animated with a cast of complex, strong female characters.

The press has called Revolution 60, "Heavy Rain meets Mass Effect." Players will control Holiday, a trained assassin using intuitive gestures with the touchscreen. Your mission is to regain control of the orbital weapons platform N313. Make your choices and accept the consequences.

Revolution 60 also has an intuitive yet deep combat system, designed for the touch screen. Players will battle on a grid, and strike when the moment is right with cinematic moves. Players of all skill levels can enjoy the combat of R60.
Forum Thread: Revolution 60 by Brianna W. Wu
---
ShipAntics: The Legend of the Kiki Beast
iTunes Description
Welcome to the world of ShipAntics, a fun-filled puzzle adventure game mixed with zany cartoon action, stuffed to the gills with weird and wonderful characters!

ShipAntics stars a madcap crew of seafaring adventurers: Captain Fred, the warm-hearted skipper of the Barnacle, Amanda his precocious, wild and wide-eyed daughter, and Otto, a cheeky young tall-tale touting Octopus. Your orders are to help Amanda and Otto as they venture into the wild blue yonder, solving mysteries and puzzles with Fred and the rest of the crew of the Barnacle.
Forum Thread: ShipAntics: The Legend of The Kiki Beast By StoryToys Entertainment Limited
---
Soccer Physics
iTunes Description
One-button soccer game! So dumb it's fun.

Features:
-Two players, one screen
-One-button controls
-Craaazy physics
-Random modes, outfits & hair styles
-Endless mode
-Optional two-button controls (for up to 4 players!)
-Record, watch & share replays (iPhone 4S or newer required)

How to play:
Tap the button to jump and kick. You control both your soccer players with just one button. Kick the ball into your opponent's goal to score.
Forum Thread: Soccer Physics (by Otto-Ville Ojala)
---
Teenage Mutant Ninja Turtles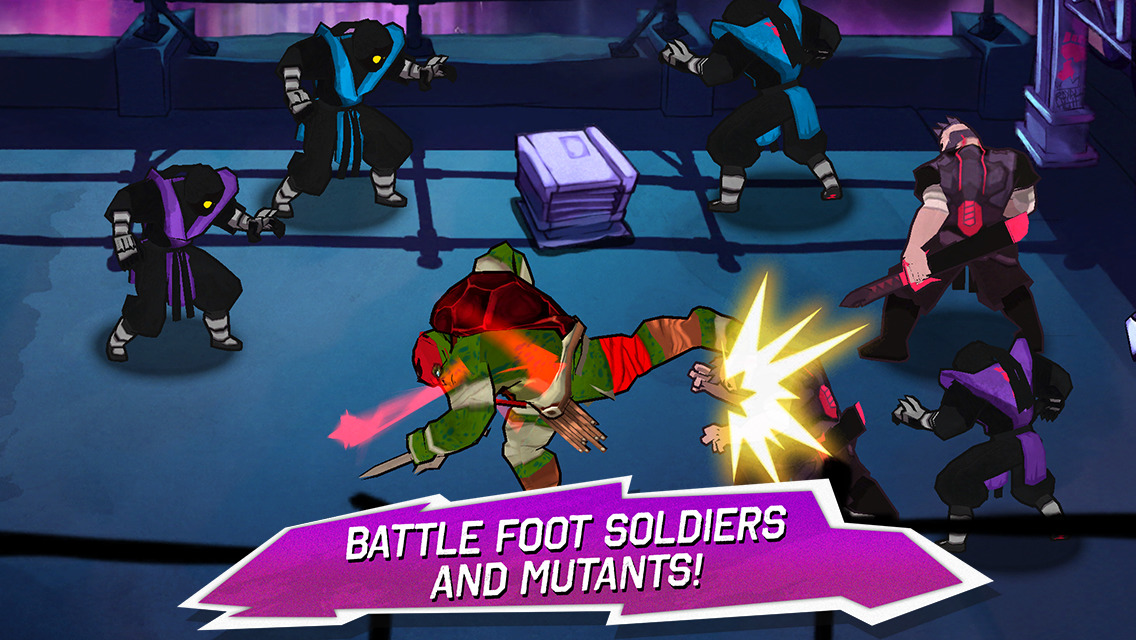 iTunes Description
Download the all new Teenage Mutant Ninja Turtles Official Movie Game!

Take back the streets of NYC with the most shell-tastic team of secret superdudes EVER! Play as Leonardo, Michelangelo, Donatello or Raphael and activate fierce Ninjutsu attacks against the Foot Clan, bosses, and mutants. It's time to protect the city!
• Developed by the makers of the acclaimed game Combo Crew
Forum Thread: Teenage Mutant Ninja Turtles – (by Nickelodeon)
---
Traps n' Gemstones
iTunes Description
TRAPS N' GEMSTONES is an adventurous platform game, among gamers typically known as the "Metroidvania" genre, from Donut Games, the developer behind chart-toppers Traffic Rush, Sunday Lawn, the "Rat On A" series and many others.

Precious relics have suddenly started to disappear from a well-hid pyramid that has been guarded by Bedouins for generations, who claim to have spotted an unknown perpetrator.
As a freelance archaeologist and expert on ancient explorations, you've been secretly called in to Egypt to help them solve the mystery.

Arriving at the pyramid's entrance empty handed, your journey starts off by searching some well-known chambers for items and weapons to help you on your quest.
But as you get deeper into the pyramid, you begin to realize that this mystery will require more than just a whip, a sharp mind and a good amount of explosives to unravel.
Forum Thread: Traps n' Gemstones (by Donut Games)