The idea behind the TouchArcade Game of the Week is that every Friday afternoon we post the one game that came out this week that we think is worth giving a special nod to. Now, before anyone goes over-thinking this, it doesn't necessarily mean our Game of the Week pick is the highest scoring game in a review, the game with the best graphics, or really any other quantifiable "best" thing. Instead, it's more just us picking out the single game out of the week's releases that we think is the most noteworthy, surprising, interesting, or really any other hard to describe quality that makes it worth having if you were just going to pick up one.
These picks might be controversial, and that's OK. If you disagree with what we've chosen, let's try to use the comments of these articles to have conversations about what game is your game of the week and why.
Without further ado…
Magic 2015 for iPad
Just like all of the games in the Duels of the Planeswalkers series before it, Magic 2015 (Free) on the iPad is an awesome way to play Magic the Gathering. What started as an Xbox Live Arcade game released in 2009 has since turned in to a yearly iteration, with incremental improvements to be had and new cards to unlock with each installment. Magic 2015 is no different, and really, our review of Magic 2013 two years ago basically still stands, as Magic 2015 is similar enough that everything I wrote way back then still applies.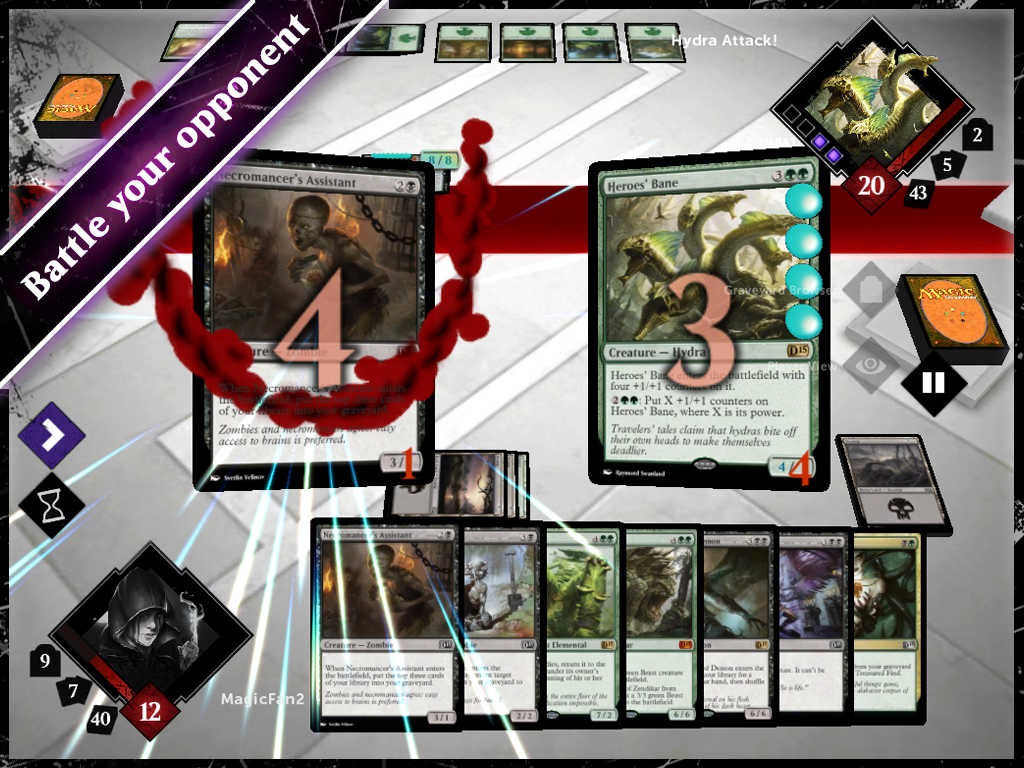 Magic 2015 is the perfect introduction to the card game for anyone who has found themselves curious about Magic. It's a complicated game, and there's not as much of a learning curve as much as there's a learning cliff- Particularly when it comes to knowing the rules well enough to attend an actual real-world Magic event and knowing both what to do and what to expect. Beating Magic 2015, like all the games before it, will teach you everything you need to know to go pick up an event deck and find a Friday Night Magic to go to.
Anyway, Magic 2015 comes with a bit more IAP this time around compared to previous years. It's still free to try, and $9.99 to unlock the single player campaign, but you can pay a little more if you want to unlock everything. $34.99 will get you the whole enchilada, and there's other IAP options going down to $1.99 "premium" card packs which can get you bonus cards you can't otherwise unlock while playing. Don't worry though, all of this aside from the same $9.99 unlock is totally unnecessary and you can basically pretend it doesn't exist if additional optional IAP items irk you.
The big new feature this year is the ability to finally fully customize your decks from scratch, which is a massive welcome from previous installments where you were limited to adding cards you unlocked various themed decks. A deck builder will even intelligently fill in the blanks for you if you just decide you really like a couple creatures and spells.
All the criticisms from previous years are still in there, which likely will only impact veteran Magic players. The card pool is still rather small compared to playing Magic proper, and you won't have access to the entirety of it unless you dip in to the IAP. With that being said, if those things are a concern to you, you're probably better off getting the full Magic experience on Magic Online… But, at the same time, Magic 2015 was never designed with the scope or intention to replace Magic Online, so, there's that.
Additionally, if you've got any questions about what went in to the design of Magic 2015, lead designer Nik Davidson did a fascinating AMA on Reddit yesterday which is worth checking out. Oh, and if all this Magic chat has got you excited to the point of going out and buying some physical cards, M15, which is the set of cards inside of Magic 2015 is having pre-release events all weekend. Use the Friday Night Magic finder to locate a shop near you. Most shops run sealed events where you pay in the neighborhood of $30 to get six M15 booster packs, then you play in a swiss tournament bracket with a deck you make out of those cards. Depending on how big the Magic scene is near you, there might be more going on, but I'd call ahead to make sure there's room and/or they're not doing some kind of event pre-sign up thing. Amusingly enough, the $30 sealed pre-release event sure makes the IAP in this game feel cheap in comparison.
Oh, and I realize this week's pick is an iPad-only game. If you're an iPhone or iPod touch owner, check out the new Minecraft update. It'll soak up your weekend just as much as Magic 2015 will.