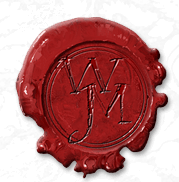 Neil Gaiman is easily one of the most popular and prolific English-language writers working today. He made his bones in comics, writing issues of Spawn and Batman before striking gold with his own series, The Sandman. After that, he moved to novels: Stardust and Coraline were both turned into films, but American Gods is probably his most essential work. He's also poked around in TV (Babylon 5, Doctor Who, The Simpsons), and spends at least a tiny amount of his time telling people to leave George R. R. Martin alone.
Lately, though, he's turned his attention to games: Wayward Manor is a point-and-click adventure game. Set during the Roaring 20's, you play as a ghost haunting a, uh, manor, until the rather boorish and pompous Budd family moves in. As the dearly departed, it'll be your job to run the Budds out and reclaim your post-mortem stomping grounds. Do this by getting to know the interlopers and then driving them mad with fear.
Patience and Fortitude, for example, are the youngest of Budd brood: a pair of awful gap-toothed, bug-eyed, candy-eaters. The Budd Twins do everything side-by-side, so the first step to getting rid of them is, presumably, to separate the two. Meanwhile, Herkimer Budd is the family's imperious patriarch. He's got a penchant for brandy, however, and a boozy fire in his belly often leads to chaos. Getting him drunk might pave the way for an ouster.
And so on and so forth until the entire clan is gone. It's not clear exactly how that will play out, but I'm guessing it might involve some inventory manipulation, a dialogue tree or two, and some wackadoo poltergeisting.
Gaiman wrote Wayward Manor, but it was developed in conjunction with The Odd Gentlemen, with publishing support from Moonshark. You may know The Odd Gentleman from The Misadventures of P.B. Winterbottom or, more recently, Flea Symphony (Free), their only iOS game so far.
The Odd Gentleman deftly handled P.B. Winterbottom's faux-Victorian visuals, and the disarmingly loaf-shaped Budds seem like the perfect vehicles for Gaiman's signature mix of macabre whimsy and twee humor. PC and Mac players will find out on July 15th, when the game goes on sale on Steam and the Humble Store. An Odd Gentleman representative confirmed to us that the game is coming to iOS, but pricing info and a release date haven't been announced.
Until we have more information, do check out Wayward Manor's website: it's chock full of character information, background, and interviews with Gaiman.