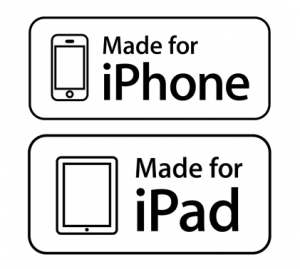 I expected we'd see a lot of mobile gaming stuff at E3 this year, as even though mobile still plays second fiddle to all the console and PC gaming stuff at the show, its presence has only been growing year after year. What I didn't expect is the ridiculous number of MFi controllers that would be on the E3 show floor. After the initial announcement of the MFi controller program at WWDC last summer, and the long lead-up to them finally being available later in the year, we really thought that controlling your iOS games with physical controllers would be the next big thing. Well, whether it has to do with the fairly high prices of the controllers that have been released thus far, the spotty build qualities, or that people just plain aren't interested in them, MFi controllers have not taken off like we thought they would.
With that in mind, I didn't really expect to see any MFi controller stuff at E3. Boy was I wrong. So without further ado, here's a rundown of all the MFi controllers we saw at E3, along with our hands-on video and brief impressions of each.
BigBen Interactive's GameGrip and GamePhone Controller Pro – Both of these controllers are already available for Android devices and are compatible with iOS devices via the iCade configuration, but the BigBen representative alluded that proper MFi versions of both are on the way. The GameGrip is especially interesting as it can harness an iPad mini and even a full-size iPad. The smaller GamePhone controller also seemed relatively nice for iPhones or iPod touches, as it felt almost identical to a PlayStation 2 controller just slightly smaller in size.
---
Hori's MFi Controller – Hori is renowned for their arcade fighting sticks, so I was pretty surprised to see they also have an iOS controller in the works. This is another controller that felt very similar to a PlayStation controller, with dual analog sticks situated in the center. It was a dummy model for display only, but even still it felt quite substantial and of high quality. Pretty much what I'd expect from Hori. They should be announcing more information on this one in the near future.
---
Mad Catz C.T.R.L.i – This was definitely my favorite MFi controller of E3. The overall build quality felt quite good, but what stood out the most was how great the button presses felt. I really liked the clip-on aspect for iPhone devices, but you could also just unscrew that clip and pair it with an iPad and use it like a normal full-size controller. The only downside is that the two analog sticks felt very loose, with very little resistance. It didn't really affect my ability to play, but it was noticeable. This will definitely be the one I pick up when it launches sometime this year.
---
Mad Catz C.T.R.L.i Micro – Mad Catz also has a smaller version of their C.T.R.L.i MFi controller, and strangely, its strengths and weaknesses are practically inverted from its bigger sibling. The build quality didn't feel quite as good as the larger C.T.R.L.i, though it definitely didn't feel shoddy either. The button pressing felt decent, but again, not quite up to par with the full-size C.T.R.L.i. However, the analog sticks feel absolutely fantastic on the Micro version, whereas they felt overly loose on the full-size C.T.R.L.i. The smaller size is appealing though, as it's definitely more portable while not feeling hand-crampingly small like the Steelseries Stratus.
---
Phonejoy Android Controller (Coming to iOS soon) – The demo model of the Phonejoy that was on the show floor of E3 was actually for Android devices only, but there is an iOS version in the works so we decided to get some hands-on time with it anyway since they should be pretty much identical. Build quality-wise the Phonejoy felt good, and it felt really good in use too. The really killer feature here is how the entire thing collapses when not in use. The Logitech Powershell was a neat idea, but it was absurdly long. The Phonejoy is too, at least when it's actually in use, but when it's not it collapses together into a really manageable size.
---
Razer's Junglecat Controller – The poorly named Junglecat from Razer was just announced last week, and with its slide-out controller design similar to a PSPgo I had really high hopes for it. After playing with an actual unit at E3, I have mixed feelings. The build quality feels slightly above average, though the actual sliding feels really solid. It's the basic MFi controller, so no dual-analog and only single triggers on each side. That said, it works really well with Asphalt 8, which was the demo game it was running. My major gripe with the Junglecat is that it's not very compact for a controller that attaches to your device. It's really thick, and also extends the length of the iPhone. I like using it, I just can't see it being something I would reasonably have connected to my phone and in my pocket at all times.
---
Signal's RP-One Controller – The Signal RP-One was the first full-sized MFi controller to be announced, way back in January. Many people were turned off by the controllers that cradled the devices like the Moga Ace Power and Logitech Powershell, and a lot of people complained about the small size of the Steelseries Stratus. The RP-One looked to be a good option for those people. After actually trying one out, all I can say is that it feels very vapid. The build quality is OK, though not great. The buttons feel alright, but the d-pad has a very strange depression right in the middle that's off-putting. The analog sticks are also quite flimsy feeling. Functionally it's just fine, but the controller feels entirely generic in every way. I'd say this will be a good option if it's significantly cheaper than other MFi controllers, as it totally gave me the impression of the cheap 3rd party controllers for home consoles.
---
Steelseries Stratus XL – Unfortunately the unit that Steelseries had at their E3 booth was just a dummy model, but I still got a good feeling for how it will be when it comes out later this year. If you liked the Stratus but didn't like how small it was, this one should please you. It felt very similar to an Xbox One controller in my hands, and has an incredibly pleasant matte finish that feels nice and grippy. It's weird mentioning that as a highlight, but sometimes it's the small things that matter, you know? The Stratus XL felt nice and substantial weight-wise, though being a dummy model it's hard to tell if that's how the final hardware will be or not. My gut feeling tells me that if you're looking for just a standalone iOS controller without any sort of clip-on functionality or cradling, this will be the one to get.
---
The good news is that, while all the controllers we saw at E3 had their own strengths and weaknesses, everyone of them felt like a step above what's been available thus far. I have yet to see one that feels like the perfect package of build quality, pricing, portability and usability, but it's a great sign that so many companies are still anxious to produce more and more versions of controllers for iOS. While it seemed like the iOS controller craze might have died before it ever really got started, it may just be that it's going to be a slow process before the perfect iOS controller arrives and this whole thing takes off in a big way. Or, maybe it will just remain as a niche accessory. Who knows?
It'll be interesting to see how the rest of 2014 plays out as these newer controllers start arriving. Towards the end of 2013 I felt like 2014 would be the "Year of the MFi Controller." Despite a lull in the first half of the year, after this year's E3 I still strongly believe that's the case. Plus, there's always the rumor of a game-playing Apple TV that could really set things off. I can't wait to see where this all goes.