I'm not sure if I've become jaded in my old age or if I'm just on about whatever the tenth stop out is on "fool me once," but I don't expect very much out of games that rocket up the top free charts. Recently it seems like the games have all been total one hit wonders, with incredibly basic gameplay that often hinged on reaction times or brutal difficulty.
100 Balls (Free) is actually neither of these things. Well, I mean, I guess it's a little basic but it's certainly no "feverishly tap your phone as quick as you can" game like Piano Tiles (Free) and the bazillion derivatives.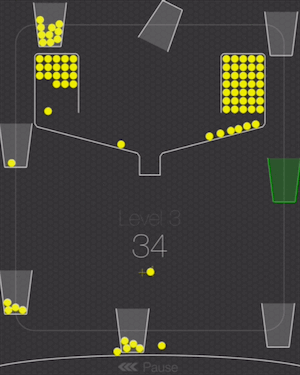 Instead, the game has a rotating set of buckets, and you've got an array of balls at the top of the screen. When you tap the screen, it opens the chute which sends some balls down to the moving bucket below. The bucket then continues the path around the screen and dumps those balls back in the hopper at the top. Miss a bucket completely, and it falls off, leaving you with one fewer bucket to rack up points with.
The longer you play, the more different colored bucket "upgrades" you get, which change the color of the balls that fall in to them to earn more points when they're caught. The longer you play, the faster the buckets go, and the more scarce your balls become as you inevitably lose some off the side.
100 Balls isn't going to revolutionize the concept of a video game as you know it, but it was way better than what we've seen at the top of the free charts recently. If nothing else, that's worth a proverbial hat tip. Seriously though, if you usually dismiss the free chart, check this game out. It's less than 4MB, so you can download it, try it, and delete it inside of a minute if you don't like it.
What's there to lose?