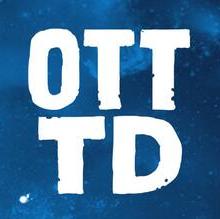 Tower defense games aren't my favorite genre. Don't get me wrong, there's several I like very much, but it's not the sort of genre that gets me all hot with anticipation. So, when I get an email for a game called Over The Top Tower Defense, I don't really think much of it. But, being that I always try to have an open mind towards any game, I checked out the trailer. And that was all she wrote, I'm sold. Over The Top Tower Defense, or OTTTD, is a pretty typical tower defense game at its core, but with some lite RPG and RTS elements peppered in to shake things up.
In addition to placing stationary towers on a map, you can also have up to 3 "hero units" active on the field, which allow you to more actively attack the waves of mobs coming your way. There are 7 different classes of hero units, and each can be individually leveled up through their own unique skill trees. In addition to all that, the art style in OTTTD is bananas. Not only does it have a cool, cartoonish look, but the dozens of enemies you're laying waste to in any given level leave behind their piles of gibs, creating a battlefield that's literally littered with bad guy debris. Check out the trailer.
OTTTD developer SMG Studio has been running a beta program in our forums for about a month, and I'm really, really encouraged by the many positive comments the beta testers have been leaving about the game. Like I said, I don't typically get overly excited for a tower defense game, but I'm super excited about this one. It's coming soon too, as SMG announced that OTTTD will be available next week on May 22nd. It'll be free to play. Correction: SMG has let me know that the game was originally planned as free to play, but instead will be $2.99. Needless to say, I'm really looking forward to OTTTD.