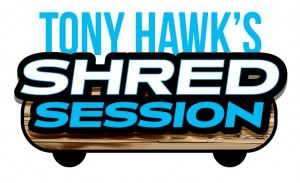 Yesterday I was lucky enough to be invited by Tony Hawk to come visit his HQ in San Marcos, CA to check out the iPhone game he has been working on, Tony Hawk's Shred Session. If you followed gamer and skater culture in the late 90's, few series are as sacred as the Tony Hawk Pro Skater games as they're basically singlehandedly responsible for kickstarting skateboarding games as a genre that are actually fun and feel good to play. Following Tony Hawk Pro Skater in 1999, Tony Hawk Pro Skater 2 was arguably even better, and the rest is history. The Tony Hawk games got a little crazy in their later years with the Jackass-era influenced Underground games and titles like Ride which were released at the height of the Guitar Hero-esque "Every Game Must Have a Crazy Accessory" mentality.
Well, very soon the Tony Hawk series will be making its biggest leap yet to the App Store via Tony Hawk's Shred Session. I'll hazard a guess based on the success of the free to play Real Racing 3 (Free) that more people will be playing Shred Session than any other Tony Hawk game before, or maybe even every Tony Hawk game combined. That's the magic of free to play and the scale of the App Store at work.
Anyway, at its highest level, the easiest way to describe it would be if Subway Surfers (Free), or another lane-based vertical runner were mashed together with Tony Hawk games. It's played in portrait mode, everything you need to do in game can be done one handed, and all the swiping gestures will feel natural to the point that you don't even need a tutorial if you've played any lane-based runner before.
The big difference in Shred Session, compared to everything else out there, is how they took this formula that's been proven time and time again to work well on mobile, and added all the tricks you're used to from Tony Hawk games. How fluid it all goes together is actually super cool, as instead of just swiping to avoid objects and other junk in your way, you're swiping to ollie off ramps, swiping some more to do various tricks, and landing to keep your score going.
The best thing to do is just watch this brief video, featuring Tony Hawk himself walking me through the game:
Two main game modes are included. Survival puts players to the task of stringing together continuous arrays of tricks to keep going, and Shred Sessions which focus on completing loads of familiar Tony Hawk style objectives like collecting "SKATE" and tons more- Even entirely busting out tricks on a half pipe, as shown in the video. While each objective type might fit in to general categories, no two are the same. Currently, there's around 20 objectives for each of the levels, with more inevitably coming from updates.
Five locales in all are included at launch. While none of them are modeled after any real environment, they're all tweaked to be a "skater's dream" filled with ramps, things to grind off of, and more. The warehouse pays homage to the classic Tony Hawk Pro Skater level, and the Santa Monica level is a skater-centric imagination of popular skate spots. Similarly, the docks and storm drain are fictional locations that have been crafted to be jam packed with things to do tricks on. Last, but not least, is South Bank which pays homage to the classic London skate spot.
Also, in case you missed it at the end of the video, the playable skaters in the game are as follows, along with their subsequent bio's if you don't follow the skater scene:
Riley Hawk: Being the son of Tony Hawk put Riley on a board at the age of three. Being one of the most dedicated skateboarders in the world did the rest. His hard work, style, and versatility won Riley The Skateboard Mag's "Year's Best Am" award and his own Baker pro model in 2013.

Lizzie Armanto: Lizzie Armanto is a dominant force on the women's skate scene. From 2010 – 2012 Lizzie was ranked #1 in World Cup Skateboarding and in 2013, Lizzie won gold at the first ever Women's Skateboard Park event at X Games in Barcelona, Spain. Lizzie rips!

Chris Cole: Chris Cole is one the greatest professional street skateboarders of all time. His abilities make the most difficult tricks look easy. Combined with his consistency, creativity and hard work, Chris Cole has cemented his place in skating's history.

Tony Hawk: Tony Hawk is arguably the most influential skateboarder in history. He was World Champion for 12 straight years and has invented nearly 100 tricks. Tony continues to innovate and inspire skateboarders around the world.

Aaron "Jaws" Homoki: Aaron "Jaws" Homoki has a reputation for skating the biggest stuff with the biggest smile. Some wonder if he has bionic legs. He also kills transition and will skate any bowl with ease. Jaws is from Phoenix, AZ.

David Gonzalez: 2012 Thrasher Magazine's Skateboarder of the Year, David Gonzalez has come a long way from the streets of Medellin, Columbia. David continues to tear it up on an off the course as one of the most stylish and influential skateboarders out there.
As far as how you'll pay for this game, being free to play and all, there will be two currencies in addition to an experience system that hinges on a typical three star mechanic for each level. Completing levels and doing well allows you to level up, coins are liberally earned in game and are used for cosmetic unlocks while the premium currency, bills, are used to speed up progress and continue in levels.
One thing that's worth mentioning is the animations of all the tricks in this game are off the chain, and the reason for that is Tony's razor sharp levels of precision when it comes to analyzing the tricks frame by frame to make sure they look right. He gave me a few examples that he had the developers fixed, nuanced to the point of minor foot positioning on the board coming out of certain tricks. It's easy to appreciate that level of detail, in any game.
Shred Session is getting its finishing touches right now, and like all free to play games, will feature a brief soft launch before a worldwide roll out. The soft launch is scheduled inside of the next few weeks with a "full" launch coming this summer. In spending the day with Tony, one thing was clear: He's really excited for this game, and he's poured tons of time and attention in to it. If that's not reason enough to be similarly stoked, I don't know what is.