Here we go folks, it's Wednesday night and that means a ton of new games have just arrived in the US App Store. My own personal most highly-anticipated game, Wayward Souls, is finally upon us, and I know I'm not alone in being incredibly excited that it's finally here. However, don't slip on some of these other games, as stuff like Leo's Fortune and Tiny Dice Dungeon have potential to be total sleeper hits. As always hit up the forum links for more impressions from international players who have been playing these games throughout the day, and be sure to check out our videos of Eli's streams from earlier today where he played most of these new games as well.
---
Bamba
iTunes Description
Balancing an unicycle juggler over a tightrope is what Bamba is about. With a minimalist gameplay that consists basically in going back and forth, Bamba features an incredible set of 25 levels of ever growing difficulty.

-one touch control
-just tap to change the unicycle direction
-physics simulation
-5 worlds
-25 wooden crafted levels
Forum Thread: Bamba (by Simon Ducroquet)
---
Eras of Alchemy
iTunes Description
Help! Earth has been mostly destroyed by an asteroid.
My name is H.E.R.A. Will you help me resurrect all of Earth's creatures?

HERA, the Holographic Earth Revival Alchemist, awakens one day to find Earth destroyed with little life remaining. The planet depends on you. Using the combined powers of science and HERA's alchemy pods, can YOU help repopulate Earth? Discover the combinations to create creatures and advance through eras of time!
Forum Thread: Eras of Alchemy (by Sheado.net)
---
Froggy Splash 2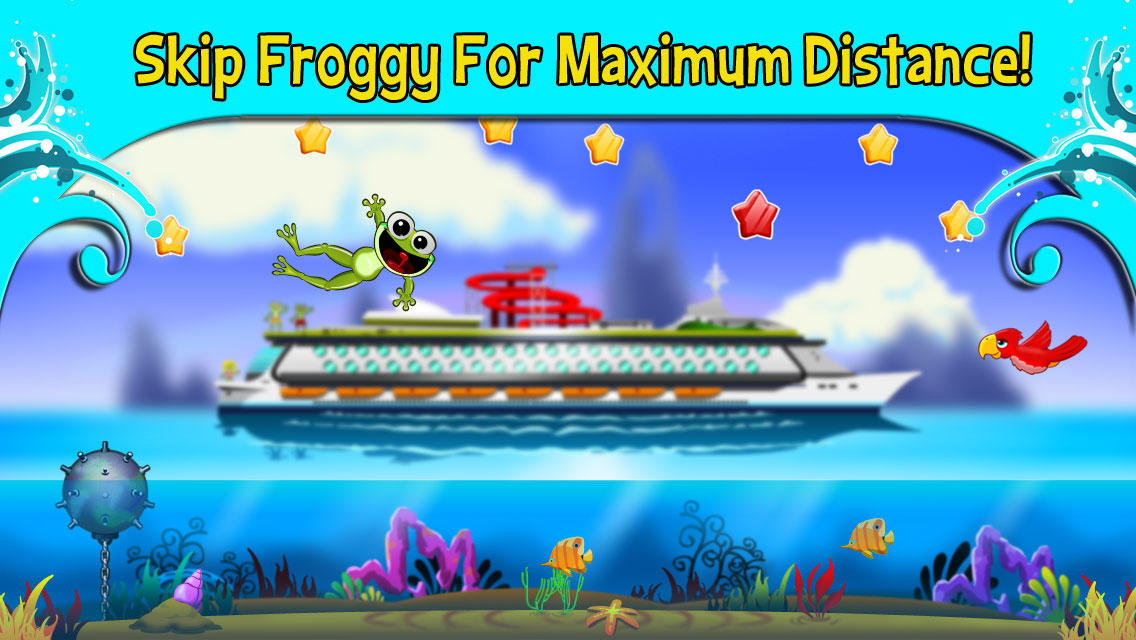 iTunes Description
Launch the frog as far as possible with various unlockable helpers and whatever items are found on the way.

Collect stars to earn cash which can be used at the Shop to improve future runs.

The game features a frog who you wants to stoneskip as far as he can.
After launch you can maintain momentum by tapping anywhere when the frog splashes.
Forum Thread: Froggy Splash 2 (by Namco Bandai Games)
---
Horde of Heroes
iTunes Description
Hordes of Heroes is a Free To Play Match-3 RPG placing the player in the role of a medieval Hero whose quest is to set out and save the kingdom from evil doers, ne'er-do-wells and generally unsavory characters. Along the way, you can unlock new powers, gain new loot for over 1 million different combinations of equipment, and find real-life friends on the battlefields to help you in your quests.

Swap and switch to match the blocks to unleash the power of your hero! Level up your hero to become better at different blocks so you can master the art of magic or increase your damage with your blades!
Forum Thread: Horde of Heroes – (by Everplay)
---
Kelly
iTunes Description
Travel through a dynamic world between the clouds, avoiding all kinds of obstacles.
Play 15 levels, and earn up to 3 stars by completing them within time limit.
Enjoy the simplicity of 2D controls with 3D graphics.
Forum Thread: Kelly [2.5D platformer]
---
Leo's Fortune
iTunes Description
Leo's Fortune is a platform adventure game where you hunt down the cunning and mysterious thief that stole your gold. Beautifully hand-crafted levels bring the story of Leo to life in this epic adventure.

VOYAGE through lush environments from mossy forests and arid deserts, to pirate cities and snowy mountains. SURVIVE vicious traps and solve physics-based puzzles through 24 levels of treacherous adventure. FOLLOW the trail of gold and uncover the truth behind Leo's stolen fortune.

Finish Leo's Fortune to unlock Hard-core Mode: try to beat the whole game without dying to unlock a special prize! Compete with your Game Center friends to beat as many levels as you can in the fastest time possible.
Forum Thread: Leo's Fortune (By 1337 & Senri LLC)
---
MyTP One Mountain
iTunes Description
The game features one huge mountain area fully packed with half- and quarter pipes, jumps, slope style courses, boxes, rails and sheer endless run possibilities. Choose and edit your individual character, grab your snowboard or skis of choice to match your style and let's do it ! Master the 48 "competition", "style session" and "best 3 tricks" challenges to improve your skills and unlock new spots on the mountain.

The higher you get towards the peak of the mountain, the more opportunities to ride new as well as hidden lines will arise. And if you think you have seen everything despite all the different possibilities, strap off your skis or snowboard and start to walk around, there is a lot to explore…
Forum Thread: MyTP One Mountain – Ski, Freeski and Snowboard – (by randerline)
---
No More 404
iTunes Description
Meet 808.

808 hates 404s. Your favorite site down? The 404s did it. Internet video stuttering? Texts vanishing? 404s did that too!

Help 808 ice these chumps in No More 404!
Forum Thread: No More 404 (by one of them games)
---
Not Quite Red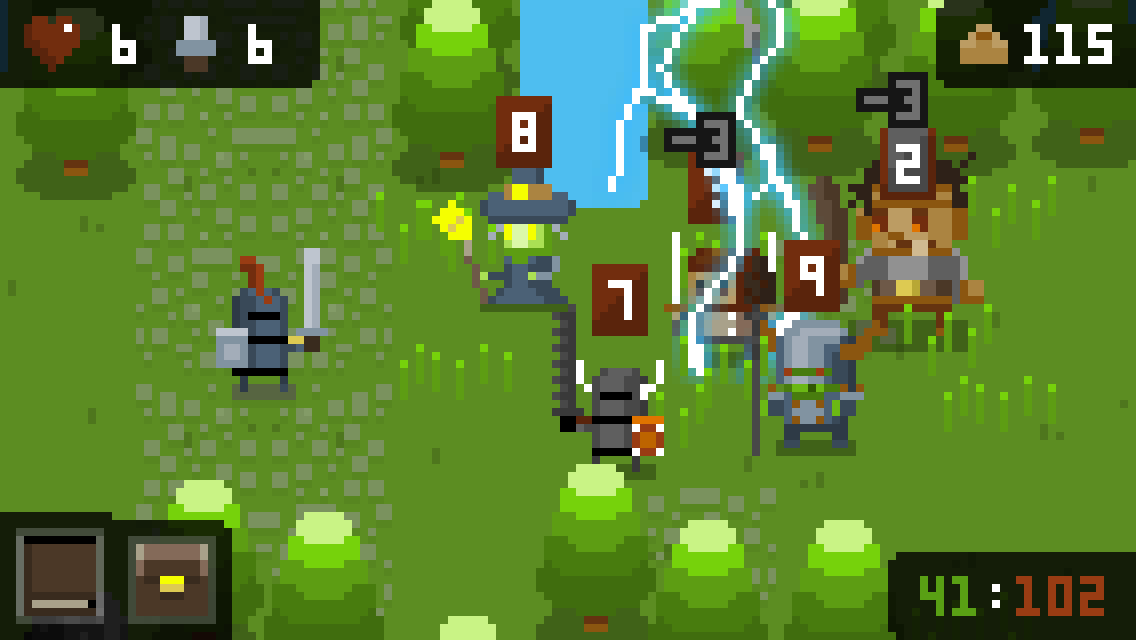 iTunes Description
A very tiny roguelike. Use your sword, shield, magic, potions, and special inventory items to battle your way through hordes of enemies.
Forum Thread: Not Quite Red (by Kidexodus)
---
On The Lam: Fugitive Simulator
iTunes Description
Experience what it is like to actually be a fugitive on the run. On The Lam was designed to be the most realistic fugitive simulator game ever made. Many hours of researching actual fugitive cases were spent to bring the most authentic and realistic experience to the player. The goal is to escape the country by any means necessary.
Forum Thread: On the Lam: Fugitive Simulator (by Skaldic Games)
---
Red Yer Dead
iTunes Description
An absurdly chaotic game of avoidance, attack, and survival!

Collect as many blues as possible, before red kills you! Every 60 seconds, another red is added to the chaos, and he's out to get you!

Try to get to the top of the Game Center leaderboard before it's too late!
Forum Thread: Red Yer Dead – (by Little White Bear Studios)
---
Scrap Squad
iTunes Description
Put your evil plan in action and take over the world with your scrap yard robots and fantastical contraptions! Do you have what it takes to be the evilest genius?!
Forum Thread: Scrap Squad (by Relevant Games)
---
Sha Cat
iTunes Description
The Sha Cat is coming!

Jump into the role of a shamanistic kitty and battle through hordes of wicked creatures in an attempt to save her kidnapped boyfriend! Dress her up to enhance your Cat's Power! Meet friends along your journey to aid you in combat, through dark caves and spooky castles!
Forum Thread: Sha Cat – (by David Zobrist)
---
Soccer Rally 2
iTunes Description
Rev up your engines and get ready to experience soccer like never before! Smash, shoot and score your way to victory. Drive to glory through 20 challenging tournaments, featuring different balls from a Soccer ball all the way to a Tennis, Beach ball and Hockey Puck. Prepare for the Tournaments and hone your skills in the Academy. Here, your skills will be tested to the limit with intriguing challenges such as Multiball, Ball Sorter, Cannon Defence and Time Attack.

Prove you are the best by taking on our friends with Same Device Multiplayer, which lets you turn your phone or tablet device into an intense, 2 player car soccer arena.
Drive and customise 9 cars ranging from an American Saloon, sporty compact to a Rally Car, Hot Rod and Sports Coupe, each with their own different performance and characteristics.
Forum Thread: Soccer Rally 2 – (By IceFlame)
---
Suited Up
iTunes Description
Suited Up is a difficult, one-touch platformer that requires players to visualize each jump. The controls in Suited Up are simple, yet difficult to master. Tap where you wish the top of the jump arc to be and the suit does the rest. No on-screen joysticks or buttons to get in your way.

Levels in Suited Up can be punishing — you will die. A lot.

Suited Up contains a level editor that allows a staggering amount of control over the look and feel of created levels. Designed similarly to a layer-based art program, the level editor lets you use your imagination to create very unique levels. Once you have created a level, you can make it available to anyone and see how they stack up against you in your own creation.
Forum Thread: Suited Up – (by Anson Brown)
---
Tank Battle: East Front 1943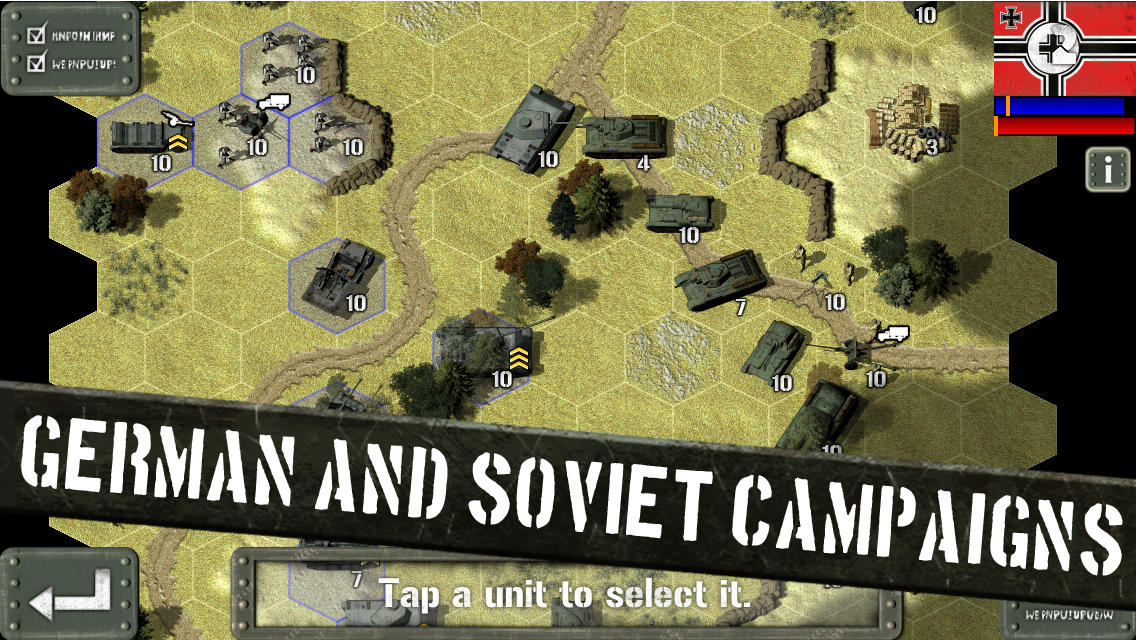 iTunes Description
Tank Battle: East Front 1943 is the third in the successful 'Tank Battle: East Front' series of games for iPhone and iPad, a game of tactical combat on the Russian Front during 1943. Fight as the Germans or the Soviets in a series of ever more complex missions.
Forum Thread: Tank Battle: East Front 1943 (by Hunted Cow Studios)
---
Third Eye Crime: Act 1
iTunes Description
Third Eye Crime is a stealth puzzle game featuring Rothko, a smooth-talking criminal who can telepathically predict where enemies will move to attempt to thwart his heists. Players must rely on skill and their "third eye" to deftly make an escape.

Third Eye Crime was created by AAA-turned-indie developers Moonshot Games, harnessing years of design expertise at Bungie on successful titles in the Halo series to create a fully independent, cinematic mobile experience.
Forum Thread: Third Eye Crime: Act 1 – (by Gameblyr, LLC)
---
Tiny Dice Dungeon
iTunes Description
Tiny Dice Dungeon is a free, epic RPG full of danger, warriors, wizards and loot!

Adventure with tiny heroes through dark dungeons full of giant monsters and ultimate treasure. Tame evil creatures to fight at your side as you build a powerful army to take over this fantasy universe.

If you love pure RPGs full of super-awesomeness, Tiny Dice Dungeon is for you. Fight legendary battles against hundreds of different monsters and bosses, while building your characters to a world-dominating strength!
Forum Thread: Tiny Dice Dungeon – (by Kongrgate)
---
Wayward Souls
iTunes Description
Wayward Souls is an action-adventure game built for quick playthroughs and massive amounts of replay value. It was inspired by Spelunky, Secret of Mana, and our previous game, Mage Gauntlet.

Procedurally generated random levels mean that every time you play the game, it's a different experience. Control one of six characters, all with their own unique playstyles, abilities, and equipment. Explore and fight for survival, in combat where your tactics, positioning, and timing matter.
Forum Thread: Wayward Souls – (by Rocketcat Games)