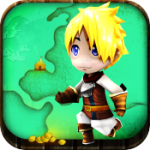 This week's episode is a little weird, as Jared had to leave super last minute before we started recording… So I grabbed Rocketcat Games' Kepa Auwae who apparently is fighting a vicious illness and was highly medicated. We don't really follow the typical show format with game and news discussion, and instead just chat about random stuff as it pertains to things that Kepa and his studio are working on, game design, and other stuff.
We'll have a normal episode next week, I promise. Maybe I'll even know the correct episode number.
Don't forget to shoot us emails with any questions, feedback, or anything else relevant or irrelevant to podcast@toucharcade.com. We read 'em all, even if they don't make it into the podcast. As always, you can listen to us with the links below… And if you like what you hear, please subscribe and/or drop us a review in iTunes. Much appreciated!
iTunes Link: The TouchArcade Show
Zune Marketplace: TouchArcade.com Podcasts
RSS Feed: The TouchArcade Show
Direct Link: TouchArcadeShow-151.mp3, 65.4MB
---
This week's episode of The TouchArcade Show is sponsored by…
Cal Pow Dash, Free - Cal Pow Dash, by MackDavi Studios in Australia, is your classical endless runner game presented in a beautiful, fresh 3D environment.
Play as Cal Pow, the unlikely hero, as he dashes to save his princess. Dodge knights, jump snakes, and avoid all sorts of obstacles in his run. Collect coins for power ups and see how far you can get. With ever increasing difficulty, compare your best against others in the leaderboards or unlock survival mode for a real test.
Cal Pow Dash is available on iPhone, iPad, and select Android devices for free today!