It's Wednesday evening, which means a whole batch of new iOS games have just hit the US App Store. Normally I might mention a few of the games out of this week's selection that have caught my interest, but honestly, what's the point? Hodappy Bird is out today, and it's poised to change the face of gaming as we know it, rendering other games null and void in its wake. Oh, some game called Hearthstone came out today too. It's by some hobbyist developer named… Hurricane? Snow Storm? Something like that. Anyway, you might want to check that out too, I heard it's pretty good or whatever.
---
Asphalt Rush
iTunes Description
Ashpalt Rush is an addictive arcade-style game in which you will have to fix potholes by tapping or sliding your fingers on the screen to avoid cars being crashed.

Being focused and really quick movements will be necessary to achieve the highest score in world-wide leaderboards.

Game is totally free! But if you like us, you can upgrade to ad-free version of Asphalt Rush (Asphalt Rush No Ads).
Forum Thread: Asphalt Rush (by Digital Melody)
---
Bike Assault
iTunes Description
Bike Assault is a pixel art arcade minigame that mixes action and racing. Drive your motorbike through the highway dodging traffic and chase the armored truck. Use your gun to shoot the back doors until they open, and then get all the money you can. Demonstrate your ability, dominate the leader board and share your score!
Forum Thread: Bike Assault (by Daniel Vilchez Carpio)
---
Bounsy
iTunes Description
For the first time, you can really touch your game just like magic.

Simple, Fun and Magical Puzzle game.

A unique physics game that react to your fingers, guide the balls to the targets with only your fingers!!
Forum Thread: Bounsy (by karzy)
---
Cloudytown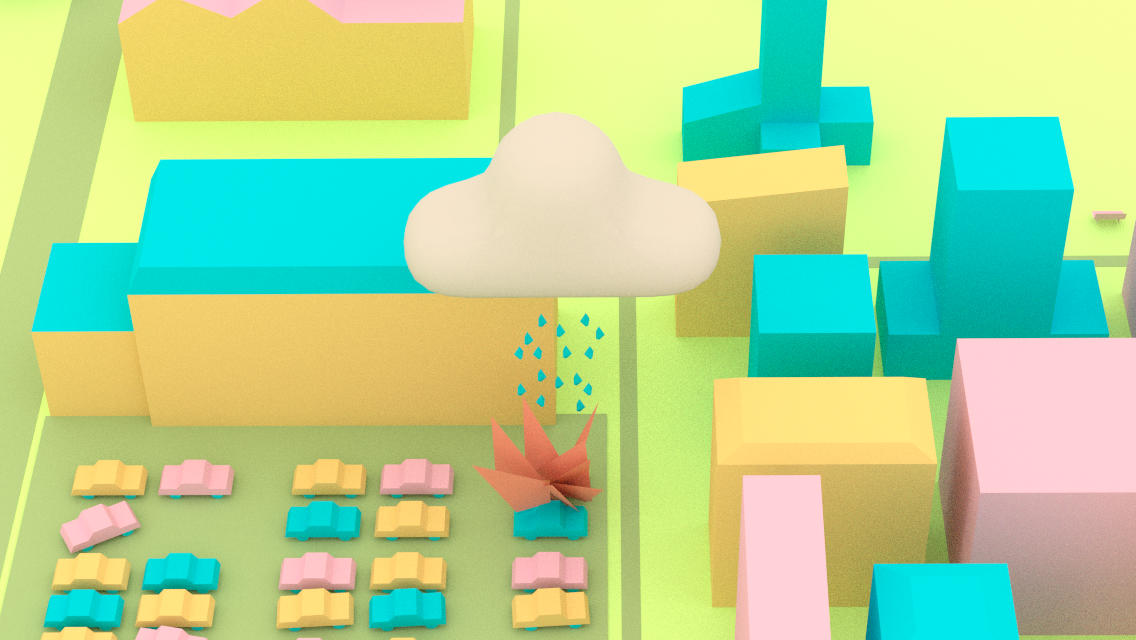 iTunes Description
Float around as a cloud in a little town. Put out fires, and turn your frown upside down. Welcome to CLOUDYTOWN!!
Forum Thread: Cloudytown – (by Julian Glander)
---
Dark Slash
iTunes Description
A game burning your blood! Brandish your light saber and slash crowds of demons in this dark pixel world!
Slash! Combo! Dodge! Design for action game fans!
Innovative game mode, simple game controls, superb combos and challenging monsters! All these elements included to bring you into a great fight!
Forum Thread: Dark Slash (by Jason Saxon)
---
Epicycle
iTunes Description
Minimalistic game in which you have to solve logic puzzles. Be smart and inventiveness, combining circles in arcade mode. And quick thinking and reaction in endless mode.
Features:
– Minimalistic graphics
– Intuitive gameplay
– Randomly generated backgrounds
– Great musical accompaniment
– Leaderboard
– Achievements
Forum Thread: Epicycle [free] (by Mykyta Gaydukov)
---
Fable Age
iTunes Description
Lead your team of classic fairytale characters in battle against invading enemy hordes across epic fable books. Tap and link gems to create powerful combo attacks. Intuitive gameplay combines with deeper RPG elements to create a fun and additive game. From the Frog Prince to Red Riding Hood, each fable offers unique strategy and skill. Fable Age offers weekly quests and lucky draws to provide gamers with continuous new content and challenges.

Match, link and combine gems to do maximum damage with strategic gameplay. Use potions and elixirs to augment your heroes. Work with other players to conquer challenging quests and add players as friends to battle together again in the future. Evolve your heroes and merge their skills to create powerful warriors. Collect heroes with different skills to meet the challenges of changing quests and enemies.
Forum Thread: Fable Age (by Blue Tea Games US)
---
Flappy Nightmares
iTunes Description
Do you dare to enter Flappy's dungeon?

From the creator of Dungeon Nightmares, reviewed as the scariest mobile game out there, K Monkey now brings you the ultimate horror in gaming.

Find as many eggs as you can and escape the terror.

This is the true nightmare…
Forum Thread: Flappy Nightmares (by K Monkey)
---
Froggy Jump 2
iTunes Description
Warning: extreme addiction is inevitable!
Hop from one platform to another in this Froggy jumper! Bounce and hop your way out of this world into the galaxy, but be watchful of meteor showers!
Forum Thread: Froggy Jump 2 (by Namco Bandai)
---
Hitman Go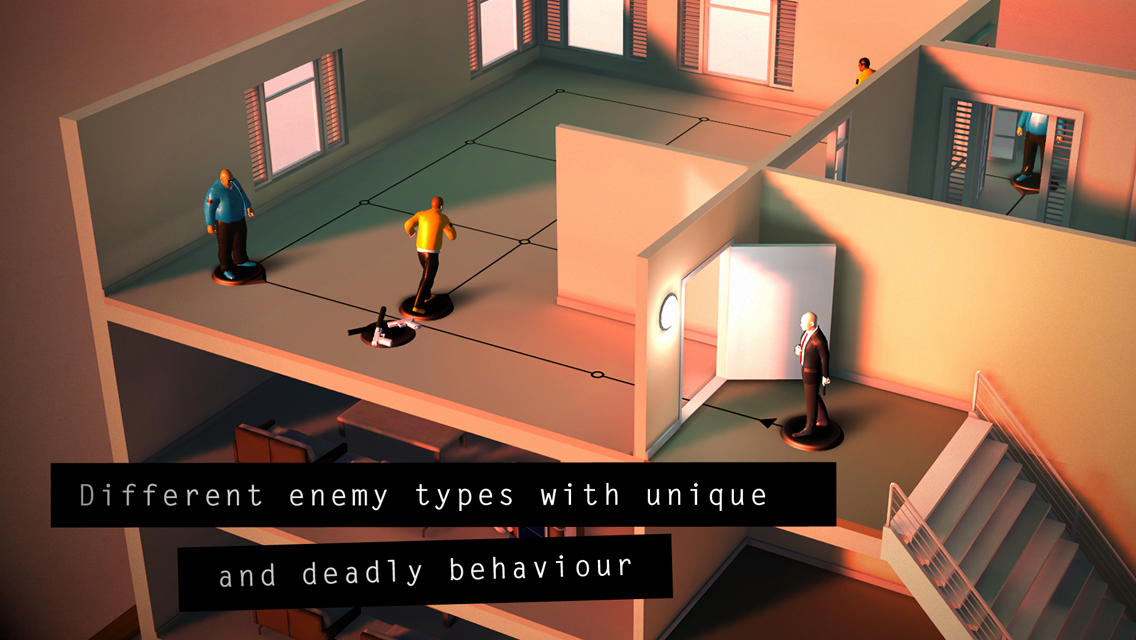 iTunes Description
Get your daily fix of Agent 47 with this elegant, strategy-based Hitman game!

Hitman GO is a turn-based puzzle game with beautifully rendered diorama-style set pieces. You will strategically navigate fixed spaces on a grid to avoid enemies and take out your target or infiltrate well-guarded locations. You really have to think about each move and all the Hitman tools of the trade you would expect are included; disguises, distractions, sniper rifles and even 47's iconic Silverballers.
Forum Thread: Hitman Go (By Square Enix)
---
Hodappy Bird
iTunes Description
TouchArcade's Eli Hodapp stars in HODAPPY BIRD!

You may have flapped, but have you Hodapped? Take control of Hodappy Bird with simple one touch controls as you fly through Chicago's pipe district collecting bitcoins.

Want a fresh look? Spend a bitcoin on a new Hodapp featuring a variety of hats and glasses.Have bitcoins to burn? Spend 'em on increasingly expensive continues to maximize your score.

Hate pay to win mechanics? Super Hodappy Bird 64 mode is for you, featuring NO continues, separate leaderboards, and a shifted color palette which is best viewed through the lenses of professional gaming glasses.
Forum Thread: Hodappy Bird (By Madgarden)
---
Icarush
iTunes Description
Rush to the sky with Icarus!

Icarush is an endless jumper where you, using a unique touch-based control, will help Icarus fly high up in the air. Master different kinds of magical feathers, harness your hidden Rush Power, and unlock various upgrades to get even higher. Only you can help Icarus fulfill his dream!
Forum Thread: Icarush (by Pixelfrost)
---
iOOTP Baseball 2014 Edition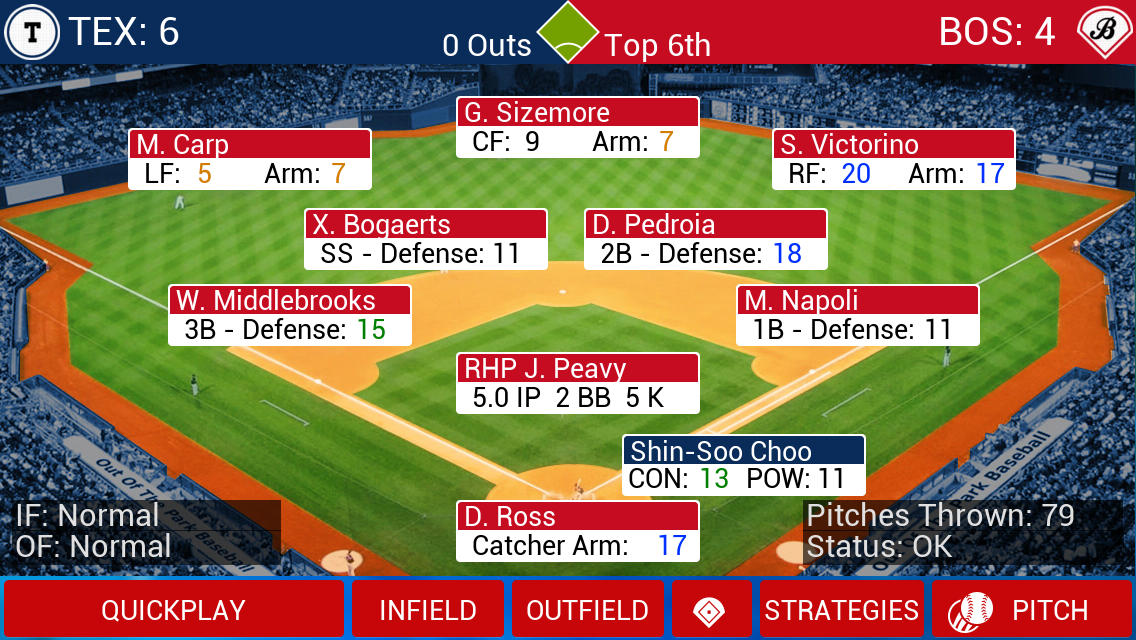 iTunes Description
Guide your favorite baseball team to glory! Out of the Park Baseball, the most realistic and best-selling baseball management game ever created, is now available for iOS as a brand new 2014 version.

iOOTP Baseball 2014 features a living world that uses the same robust simulation engine found in Out of the Park Baseball for Mac and PC, the best-selling and best-rated baseball management game of all time. Out of the Park Baseball is the second-highest-rated PC game ever on Metacritic and also received the PC Gamer Sports Game of the Year Award.
Forum Thread: iOOTP Baseball 2014 Edition (by Out of the Park Developments)
---
Jumping Jaxx
iTunes Description
Escape from the big bad wave, with dangerous piranhas! Jump through an endless world with funny obstacles and beautiful flowers.

Be aware of the special boosters, as dynamites and swimming rings that helps you escape from the wave easier – remember to look for the unique superman powers!
Complete exciting missions and upgrade your boosters, so you can beat your highscore.
Forum Thread: Jumping Jaxx (by Copenhagen Creators)
---
Necromancer Rising Reborn
iTunes Description
Welcome to Necromancer Rising a game that was there at the dawn of IOS gaming. The past weeks Necromancer Rising has been upgraded to run on the latest devices. Quite a feat being that this game predates the iPhone 3gs which was the first large step towards 3D gaming on the iPhone.
In this action, RPG, first person experience you will take the role of a priest who has had his family not only murdered but their bodies taken for use by the necromancer. You will adventure through 49 plus levels of the necromancer's realm attempting to destroy him and his countless minions through the use of your spells, Weapons, armor and created items. You will find treasure, materials to create items, and strange creatures. Enjoy this walk through the past that offers a great gameplay experience even today. This game is comparable to system shock, Ultima underworld and other first person adventure RPGs.
Forum Thread: Necromancer Rising Reborn (by Banshee Soft)
---
Pocket Gridiron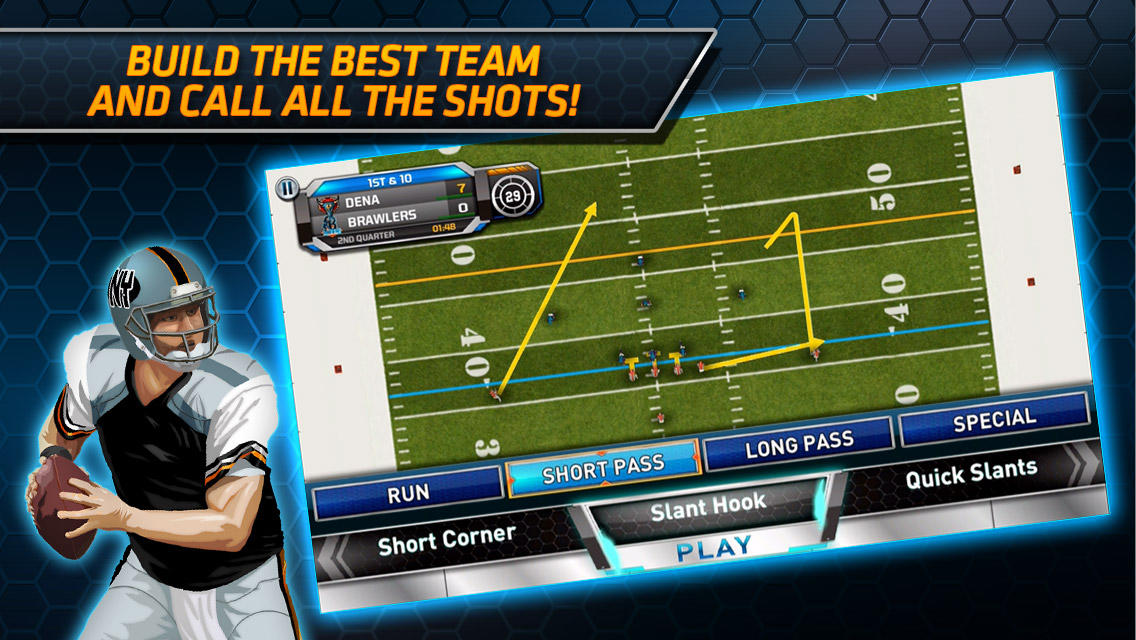 iTunes Description
Be the ultimate playmaker as you dominate your way through the league all the way to the top! Run, pass or drive? It's up to you! Call ALL the shots, build the team of your dreams and stiff-arm the competition.

FEATURES
– PLAY Season Mode or go head-to-head against other players in Challenge Mode.
– SIMPLE one-touch controls let you direct the action on the field.
– DRAFT players, set your lineup and train players to make the best team in the league.
– COMPETE for the top spot on the Leaderboards.
– CUSTOMIZE your team name, logo, and color theme.
Forum Thread: Pocket Gridiron (by Mobage)
---
Pulse Chaser
iTunes Description
Put your brave heart into the action! Simply try to follow the pulse path, easy to learn but insanely hard to master.
This is probably the hardest game you will ever come across. Give it a try.
Become the master of Pulse Chaser!
Forum Thread: Pulse Chaser for iOS (by Anton Gregorn)
---
Rogue Heroes
iTunes Description
Rogue Heroes is awesome fast-paced 2D action-platforming roguelike game with RPG elements.

– explore the depth of procedurally generated levels
– upgrade your hero
– level up and collect equipment with unique set bonuses
– complete quests
– discover secrets
– fight against dangerous bosses and enemies
– progress through different locations with deadly traps and obstacles
– earn achievements
Forum Thread: Rogue Heroes (by Peter Shoferystov)
---
Skyfehl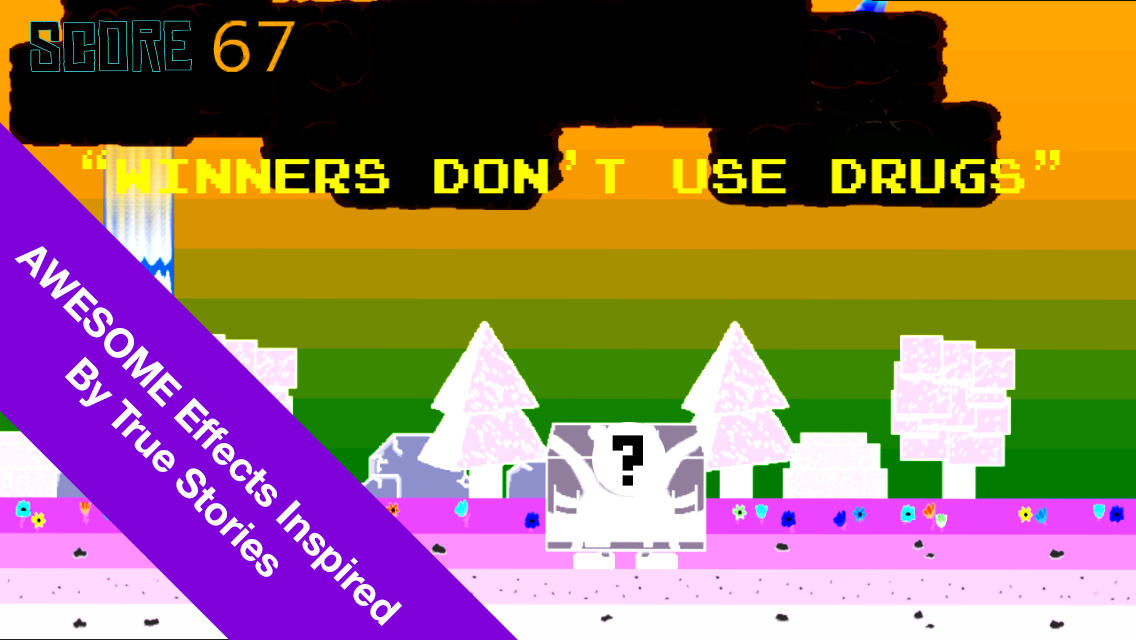 iTunes Description
The sky is fehling! Bodycheck meteors from the side for points and don't get hit on the head. Oh, and hit power ups for crazy effects! Get a high score and show your friends! Get this game and make more friends! Over 29 challenging achievements.
Forum Thread: SkyFehl (by Chris Worman)
---
Sparkle Unleashed
iTunes Description
Unleash the orbs and light the fire in Sparkle Unleashed! A hidden world of mystery has succumbed to an ominous darkness. Now you must make your way through the fallen lands, light magical braziers and discover a way to banish the darkness once and for all. Unlock potent powerups and use the ones you like the most to overcome Chained Orbs, Rock Orbs, Survival levels and other exciting challenges. Can you carve a path of light through the darkness?

Sparkle Unleashed introduces floating Orb Slinger gameplay never before seen in a Sparkle series game. The unleashed Orb Slinger floats along the bottom of the screen providing a new kind of action puzzle experience.
Forum Thread: Sparkle Unleashed – (by 10tons Ltd)
---
Stunt Guy 2.0
iTunes Description
Stunt Guy 2.0 features all the action of the original but adds even more: EXPLOSIONS, awesome cars, EXPLOSIONS, beautiful locations, EXPLOSIONS and stunt blood. It's an all action arcade blast with a few surprises up its sleeve too, its brilliance is reflected in the early reviews:

"It's pretty good for playing on the bog" A. Tester
"I can't believe how many explosions there are – I can hardly see the car" A.N.Othertester
"When are you guys going to grow up and get proper jobs?" Our Landlord.

So, what are you waiting for? Download it now and get yourself a double-helping of stunt with stunt sauce.
Forum Thread: Stunt Guy 2.0 (by Kempt)
---
Tidal Drive
iTunes Description
Run and drive as fast as you can to escape the tidal wave. This is the fastest, craziest, most nail-biting experience you ever had on your iPhone or iPad. With a world that adapts to the way you play, immerse yourself in a cinematic experience that is always intense and never the same. Tap billboards, pick up people, watch your energy, and manage your fatigue; Tidal Drive™ rewards strategy as well as good driving.
Forum Thread: Tidal Drive – Run and drive from a tidal wave!
---
Unpossible
iTunes Description
Unpossible will test your skills, your reflexes, and even your memory. It will make you smile. It will probably make you scream. You will die often and it will always be your fault. Fight to learn the obstacles…they already know how to fight you. Relentless. Thrilling. Unpossible!

Unpossible is played with easy to learn controls with options for touch, tilt and external controllers. Each control scheme is designed so the controls get out of your way. You'll feel at one with the game.
Forum Thread: Unpossible (by Acceleroto)
---
Yomi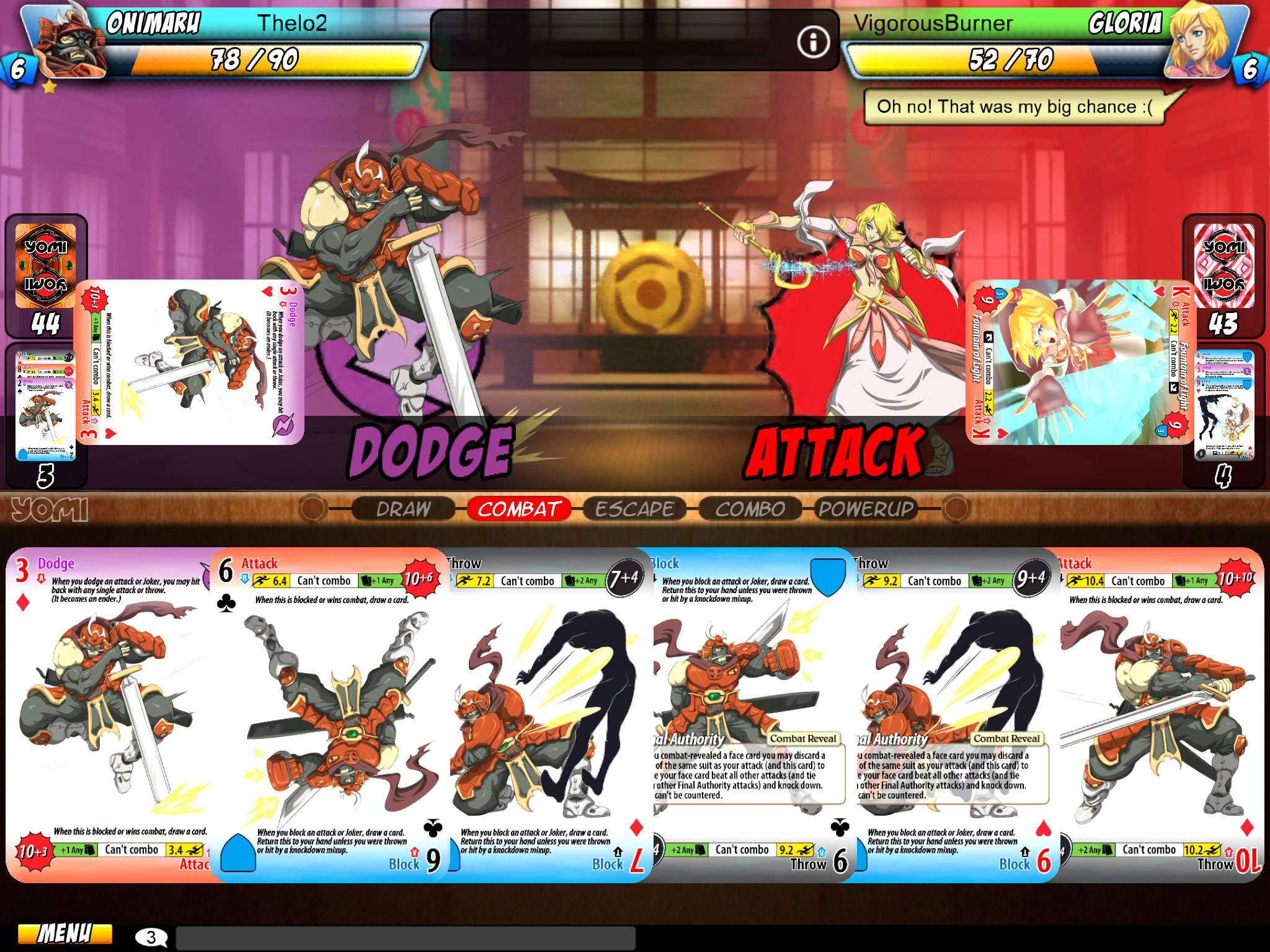 iTunes Description
Yomi is a fighting game in card form. Learn your character, practice combos, and read the opponent's tendencies. 10 characters to choose from, plus 10 more expansion characters available inside the app.

Yomi captures the mindgames from fighting games such as Street Fighter, and was created by the lead designer of Street Fighter HD Remix, who was also a long-time fighting game tournament player. Yomi itself is strategy card game that has held up to many years of tournaments. Start practicing now!
Forum Thread: Yomi (by Sirlin Games)