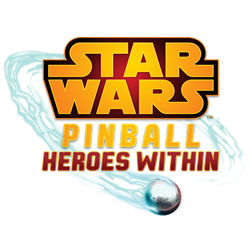 Zen Studios' Star Wars Pinball ($1.99) is an awesome mashup of digital pinball and George Lucas's iconic space saga, and it's set to get even more awesome with the upcoming Heroes Within table pack. Upon its original release in March of last year, Star Wars Pinball came with three tables: Empire Strikes Back, The Clone Wars and Boba Fett. Then in October, the "Balance of the Force" update added tables for Return of the Jedi, Starfighter Assault and Darth Vader, bringing the total number of Star Wars Pinball tables up to six. Following that last update we reviewed Star Wars Pinball, and enjoyed it quite a bit.
The upcoming Heroes Within table pack will actually feature four new tables, as opposed to just three. First up is a table about the original Star Wars movie, A New Hope. Then there is a Masters of the Force table which is "a special tribute to the highest powers in the universe – both good and evil," according to Zen. Next is the Droids table, which stars everybody's favorite droid duo C-3PO and R2-D2. Finally, the smuggler Han Solo gets his very own table, which will of course feature appearances by his furry sidekick Chewbacca. Here's a trailer for the Han Solo table.
Zen Studios has said in the past that they expected to have ten total tables in Star Wars Pinball, which they'll achieve with the Heroes Within update. So it's possible this is the last update we'll see for the game. However, ten tables is quite respectable and as most Star Wars fans know there's still an expansive universe left to tap for future versions of the game. Or hey, maybe Zen will just keep on updating this one, you know? At any rate, expect the Heroes Within update to hit Star Wars Pinball sometime this spring.