There aren't many games that ask you to do two things at once. One character to move about in a platformer — one cursor in adventure games — limiting control to one thing at a time is a common practice. But with Dual Survivor ($1.99), you're controlling two ships through two separate tracks — which is as tough as it sounds.
Rising Step's latest offering challenges your brain, and forces you to maneuver two ships alongside of two different tracks at the same time. It would be easy enough if the game stayed as simple as its first few levels throughout, but soon enough projectiles, jumps, and other crazy hazards enter the mix, and things get really hectic. What's the kicker? If either ship falls off the track or gets hit, you start back at the last checkpoint — no compromises. How's that for a kick in the ass?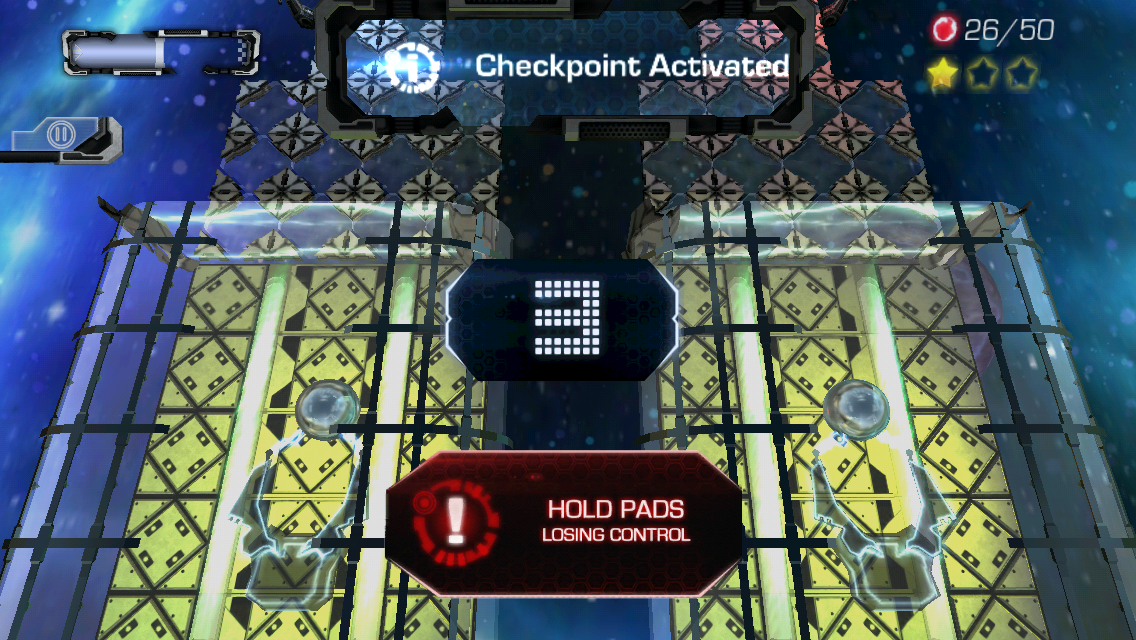 At first platforms are designed in tandem, so all you have to do is use the same moves on either side, but the fun really starts once you start chugging along. Everything is out to get you, from gaps in the track to bullets, and Dual Survivor quickly takes a dark turn into part shoot 'em up, part puzzle game. It's thrilling to say the least, to try to complete a level in 20 or more tries, and then finally conquer it.
Not every level is created equal, but most of them give you that satisfying sense of victory after a heap of failures. There are optional orbs to collect as you go through each track, which makes things even harder as you try to juggle both offense and defense. Don't expect the game to hold your hand either, as there's no tutorial in place for those of you who haven't played something like this before.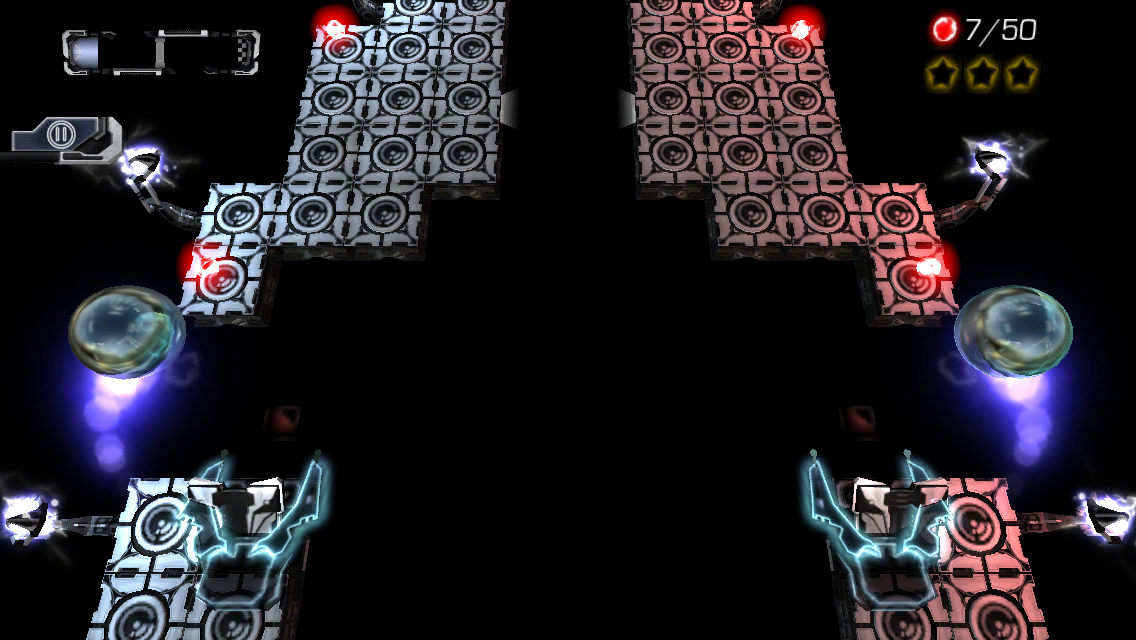 To help ease you along, Survivor has a completely different visual design for both tracks, and on an iPad, all of the special effects really pop, so it's hard to lose track of your ships. Having said that, there really isn't much here that differentiates itself from any sci-fi themed digital release, and everything could have stood to use a little more detail. Heck, there's not even a story or a real setup — it kind of just drops you in. This goes for everything from the sound effects to the music, which are presented with minimal effort. Still, if you're not one who really cares for flair, everything is there where it counts.
It's easy enough to control everything too, since all you need is two fingers and the ability to glide along the screen. The touch interface is extremely responsive, and there's just the right amount of sensitivity to make things perfect. It works especially well if you're playing co-op with a friend on a tablet.
While it may be too difficult for some, I enjoyed my time with Dual Survivor, as multitask-centric games don't come around too often — just note that those of you who are willing to put in the time will definitely appreciate it a little more. I wish it had a bit more of a personality for sure, but the gameplay makes up for it and it's even more fun with a friend.