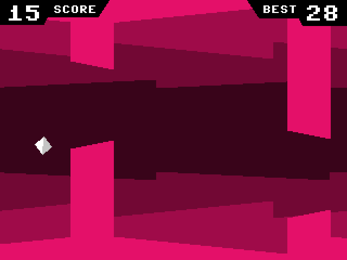 If you've never heard of a game jam before, here's the basic idea: Take some kind of prompt, which can be as obscure as a single word to anything else you can think of, and make a game out of it. They're great opportunities to try out new things, whether its exploring Unity for the first time or fiddling with building a game around some procedural algorithm you've been thinking of. Game jams can be held online, or in person, but the goal is always the same: Build a simple game.
With Flappy Bird totally blowing up everywhere, of course it only makes sense for there to be a Flappy Jam, with the following prompt:
Make a hard, almost unplayable game. Use assets inspired (not ripped) from classics. Flappy word or gameplay not mandatory. Have fun, be supportive. Hate must not win.
The whole "hate must not win" thing comes from the insane amount of toxic, venomous crap that Flappy Bird developer Dong Nguyen has had to endure since the start of all this. Anyway, as of this writing, 66 Flapp-likes have been submitted so far. Here's a few of my favorites:
Maverick Bird – Super Hexagon ($2.99) creator Terry Cavanagh whipped up this incredible Flapp-like that takes hints directly from the game he's known best for. Make sure you play this with headphones, as much like Super Hexagon, the music is amazing.
MegaFlap! – Another game with catchy music, this one by Luke Dirago, MegaFlap! is basically Flappy Bird but with MegaMan. The only thing that could make this better is if on contact with spikes you did the MegaMan explosion of white circles.
Floculus Bird – This Flapp-like by Holden Link is a 3D recreation of Flappy Bird with one large exception: It runs on the Oculus Rift VR headset. If there's a more ridiculous escalation of Flappy mania, this simply has to be it. I love it.
Flappybalt – Ever wonder what it'd be like to play as one of the birds from Canabalt ($2.99)? Well, Adam Saltsman, creator of Canabalt answers that question with Flappybalt. Unlike other Flapp-likes, gameplay doesn't involve flying through pipes, but rather, bouncing from one side of the screen to the other avoiding spikes. It definitely nails the "impossible difficulty" thing.
FlapMMO – While I don't think this is technically part of the game jam, it still seemed worth including. This online version of Flappy Bird has you playing with everyone at the same time. It's actually sort of amazing, as by the time you get past the third or fourth pipe you're basically flying solo compared to the massive herd of birds trying to get through the first pipe.
Be sure to check out the rest of the Flappy Jam, there's a ton of games to fiddle with, most of which can be played right in your browser.