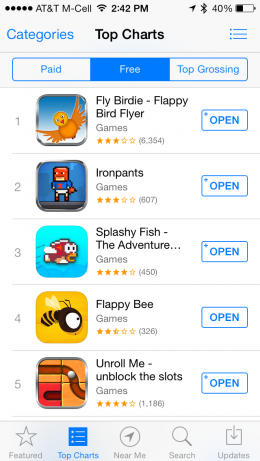 With the removal of Flappy Bird, the App Store (or as Ouriel Ohayon points out, the "Flapp" Store) is a crazy place right now. Anything that's appearing in a search for Flappy Bird is flying up the charts resulting in the top four free games being Flappy Bird-likes. It really makes you wonder how many more downloads Flappy Bird would've seen if it was still on the App Store, as it seems reasonable to assume that these downloads are being driven by people looking for their next Flappy fix.
Nguyen's Super Ball Juggling (Free) and Shuriken Block (Free) are still charting well, but it's nothing compared to anything Flappy. It's easy to assume these are all terrible games, but I wouldn't be so quick to judge, particularly if you even vaguely found yourself enjoying Flappy Bird.
So, let's go through the top four games on the App Store and figure out what's worth checking out and what you should totally skip:
Fly Birdie - One touch branch jump, Free - The top of the App Store charts currently is dominated by the game with the weakest mechanics of the other flappers. The framerate is shockingly low, the interface is crazy (The button to tweet is a upside down Facebook "F"?) and the challenge of the game seems to come from fighting against the buggy game mechanics than actually playing the game itself.
For instance, you have three lives, but get a game over when you've got one life left. The spaces between the pipes you fly through are huge, but the collision detection is even worse than Flappy Bird pre-update. Oddly enough, it also has some seriously out of place background music. Ads are fairly obnoxious, but don't seem to get in the way of gameplay.
Ironpants, Free - Number two is actually a pretty decent Flapp-like, and was already charting before the removal of Flappy Bird. In Ironpants, you play as a masked super hero of sorts. Instead of tapping to fly up, you hold your finger down on the screen and the hero flies up. I feel like Ironpants caught on as well as Flappy Bird because this control method is equally tricky, as the rate that your dude shoots up doesn't make a whole lot of sense and takes loads of practice to master.
Instead of flying through pipes, you're flying through stacks of boxes. Scoring works the same, and because of the difficulty it's often pretty difficult to get more than a few points. Ironpants has some seriously obnoxious ads, not necessarily in regards to frequency, but rather, their placement. These games lend themselves to retrying over and over, and the clever developers behind Ironpants have the ad pop up what feels like only a few milliseconds after the retry button comes up, in the center of the screen. Playing Ironpants will truly test your patience in regards to accidental ad clicks.
Splashy Fish - Adventure of Flappy Tiny Bird Fish, Free - I like this game quite a bit, and of all the Flapp-likes I'd say it's the closest to feeling like Flappy Bird when you play it. It controls very similarly, with you fish feeling ever-so-slightly floatier (I mean, you are underwater.) than Flappy Bird. Difficulty levels seem to be in between pre and post-patch Flappy Bird.
The advertising in Splashy Fish also isn't terrible. A constantly rotating Google ad banner sits on the bottom of the screen, but it stays there. Even though you're viewing ads constantly, it doesn't feel obnoxious at all as it doesn't get in the way of gameplay and is very easy to tune out.
Flappy Bee : The real Challenge, Free - Easily the worst of the high charting Flapp-likes. First off, it's stealing its icon directly from Bee Leader ($0.99), and the game isn't even called Flappy Bee on your device, it's Happy Bee, making this by far the most transparent of all the developers cashing in on the success and removal of Flappy Bird.
Insane difficulty, which seems to be the core component of what makes a Flapp-like a Flapp-like is curiously absent. Instead, you just control a bee flying up and down on the screen collecting flowers. It seems the only way you can die is flying off the top or bottom of the screen, both things being very easy to avoid. While Ironpants wins in the obnoxious ad placement category, Flappy Bee dominates it in ad frequency. It seems like everything you do in this game triggers a full screen ad. Starting the game, pausing the game, dying, you name it, you've got an ad. Avoid this game.
So, there you have it. The brave new world of the Flapp Store. I'd definitely check out Splashy Fish, particularly if you missed Flappy Bird. It's the best of the bunch, and it'll be interesting to see if it stays that way as more Flapp-likes hit the App Store. Right now it'd be easier to list the developers who aren't making their own Flappy Bird knock-off. So, batten down the hatches if you can't stand Flappy Bird. We're going to be in for a wild ride before we reach App Store equilibrium again.