The Flappy Bird phenomenon is best described as something so crazy, it could really only happen on the App Store. Seemingly out of nowhere, Flappy Bird dethroned the top free charts which previously had been locked up for months (or more, actually) with the likes of Candy Crush (Free), Clash of Clans (Free) and the standard array of must-have apps that for whatever reason just don't come pre-loaded in iOS like Facebook and YouTube (Free) pretty much glued to their respective positions on the top ten.
Well, as we posted yesterday, the developer tweeted that he was going to take Flappy Bird down in 22 hours, as he "cannot take this anymore." Since then, that tweet has been retweeted nearly 124,000 times as of this writing, truly kicking Flappy Bird mania into overdrive. The internet went crazy with speculation, with some suggesting this is a publicity stunt, and others curious if he was going to follow through with it, but it seems that as of a few moments ago all traces of Flappy Bird have vanished from both Google Play and the US App Store.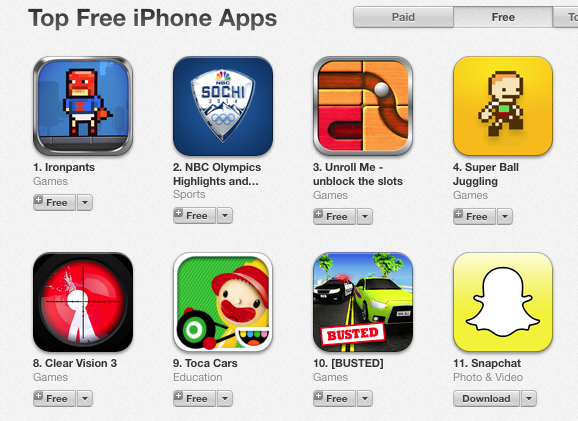 As to why he did it, this comment on Reddit is about the best synopsis of what I believe has happened. It seems like if you followed Dong Nguyen's twitter throughout the explosion of Flappy Bird, it wasn't something he expected, or wanted. What remains to be seen is whether or not the removal of Flappy Bird provides any sort of reprieve for Nguyen, who has been incessantly harassed since the announcement. Searching Twitter for "@dongatory" combined with nearly any expletive or racial/sexual slur results in a incredibly depressing barrage of attacks at the Vietnamese developer.
What's next for Flappy Bird? Who knows, but judging by the way the App Store typically works, there's not going to be any shortage of Flappy Bird-likes on the horizon. Ironpants (Free) slides up to the #1 free game with the removal of Flappy Bird, and I'm sure the painfully difficult but infinitely replayable style of game that Flappy Bird did such a fantastic job of popularizing will be at the forefront of the App Store release cycle for quite some time as developers try to capture even a fraction of Flappy Bird's leftover success.