It seems like only yesterday that Pixbits updated their crafting adventure game Junk Jack X ($4.99) with a Thanksgiving theme and tons of other new content, but it was actually just under a month ago. Still, that's an incredibly short amount of time to already be releasing another update, but that's exactly what Pixbits has done as a new Christmas themed update has gone live for the game.
As is typical with Pixbits, there's a whole lot more to this update than just a holiday theme. The biggest new feature is a completely new planet called Cryo, as well as more than 40 new mobs with new loot drops. There's also a new dynamic weather system, craftable fireworks, a new ore which you can use to make stronger items and armor, and plenty of new items, armors, weapons, plant types, rare statues… just an insane amount of new stuff. That's not even counting all of the new stuff that comes specifically as part of the Christmas theme, which itself is extensive. As always, you can check out the full list of new features and fixes in the App Store description or on the Pixbits blog.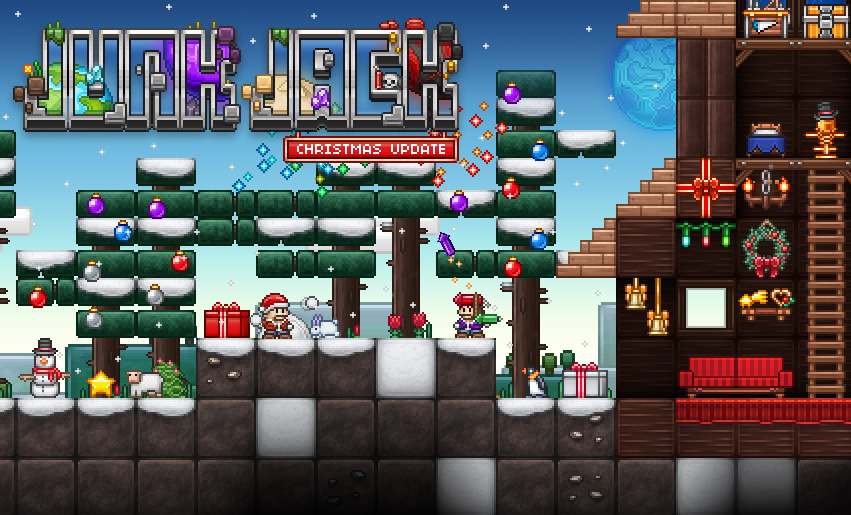 I was always impressed with how much the original Junk Jack was updated with new content and constant tweaks and fixes, but despite just being released this past August it already feels like Junk Jack X is already outpacing its original. You can check out our full review of Junk Jack X, as well as the many comments and impressions from gamers in our forums.