As has been the case recently, a number of new releases have either diverged from the normal Wednesday night release schedule or otherwise just slipped under the radar. You can check out our original Out Now post from Wednesday night, which is chock full of great new games, but here's a supplemental list of some interesting-looking titles that popped up since then.
---
Cabela's Big Game Hunter
iTunes Description
Activision Publishing, Inc. and Cabela's®, the World's Foremost Outfitter® , is now bringing the #1 hunting video game franchise* to your mobile device. Cabela's® Big Game Hunter® lets you hunt the biggest and most dangerous animals on the planet for FREE. Do you have what it takes to become a hunting legend?
Forum Thread: Cabela's Big Game Hunter – (by Activision Publishing, Inc.)[Universal]
---
Castle Raid 2
iTunes Description
Castle Raid is back, bigger and more challenging than ever before! In this unique tug-of-war you once again fight to defend your castle against the enemy's hoard. Get ready to enter the magical world of noble knights and sage wizards, dragons and assassins, and set out on a new epic adventure. Fight your way through the snow covered lands of the Frozen Plains and the beautiful open fields of the Greenlands. Learn the ways of your new enemy, the Reavers – You'll be seeing a lot of them. Castle Raid 2 features tons of new exhilarating content guaranteed to knock your socks off. Play against your friend on the same device or take on the challenge of completing the game in campaign mode. With 20 new battlefields, three difficulty modes, gladiator and time challenges, 9 unit classes to choose from and upgrade, you'll be sure to have a great time!
Forum Thread: Castle Raid 2 by Arcticmill [Universal] Head-to-Head Same Device RTS
---
Fiz: The Brewery Management Game
iTunes Description
If you've ever dreamed of owning a brewery, this is your chance! From humble garage beginnings, grow your brewery into a world-renowned symbol of excellence by crafting the best beer in the land. Research marketplaces and festivals to learn what your public wants, then brew it using realistic ingredients! Manage your profits to hire new employees, upgrade equipment, and discover new recipes. Running a world-class brewery isn't all pints and parties, though. Along the way you'll experience a story fraught with rivalry, mystery, and desperately thirsty people. Will your beer have what it takes to make a difference in their lives?
Forum Thread: Fiz the Brewery Management Game by Bit by Bit Studios [Universal]
---
Hasbro Arcade
iTunes Description
Ready to play at the Hasbro Arcade? It's the best place to discover and play with your favorite Hasbro brands in new fun ways.
– Enjoy Exclusive Mini Games like: TRANSFORMERS Beast Hunters, BARREL OF MONKEYS, CANDYLAND Sweet Match, NERF Rebelle and OPERATION Rush
– Get More Games: Find your favorites including My Little Pony, Littlest Pet Shop and Monopoly.
– Find out the latest on other great Hasbro Toys and Games.
Hasbro Arcade is available anytime, anywhere you want to play on iPhone, iPad & iPod Touch.
Forum Thread: Hasbro Arcade – (by Hasbro, Inc.)[Universal]
---
Heroes of Frontier
iTunes Description
The Return of Classic RPG on iPhone. Evolve your hero into different classes, Wizard, Ninja, Dark Knight, Paladin ….and many more. Each class has its own abilities; Assemble your team and fight back against the dark lord and other players around the world. A simple battle system designed for mobile device, but no less exciting. Different skill and ability combos make highly dynamic battles. Explore the world filled with adventure and fantasy. The history of between Human and Dark Lord – Melker, friction between human countries…
Forum Thread: Heroes of Frontier (RPG) [Universal]
---
Mix It Up
iTunes Description
Amazing liquid physics-based game! Fill underground desert basins by maneuvering colored water through abandoned mine shafts. Players must fill the lower ponds by carefully collapsing water filled pits, deliberately sending colored water in the correct location and direction, through tunnels and mazes. Slice precise cuts through hinged wooden planks, manipulating the correct amount and color of water, to reach a perfect balance in each pond.
Each level becomes more challenging as the player has to overcome intricate tunnels of wind, wooden planks, rock, pistons, and more!
Forum Thread: Mix It Up – (by Liquid Sunshine Labs) [iPhone]
---
Quantic Pinball
iTunes Description
Quantic Pinball, one of the most addictive pinball game ever seen on IOS !
Countless features, including :
– Non-stop arcade action
– Incredibly realistic physics
– 8 different game modes
– 7 original tables
– …and a special one for retro-arcade addicts !
Forum Thread: Quantic Pinball by ShineResearch [Universal]
---
Robot Blitz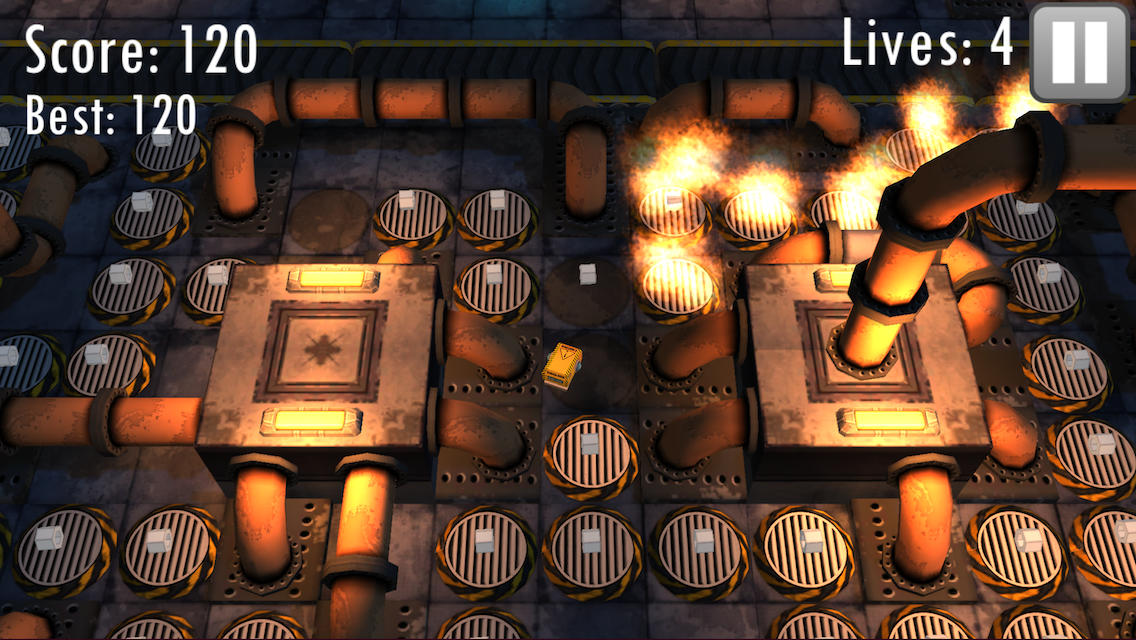 iTunes Description
Robot Blitz: Escape from Robotomo Bay is a highscore based arcade game bought into the modern age through the use of 3D graphics and touch controls. You follow the story of the Roboto-5000, a scrap collection robot who is being held captive. To survive, and escape, Roboto-5000 is forced to collect and recycle scrap (in the form of nuts) that are found amongst the various environments of Robotomo Bay. In Arcade Mode, you discover the story of oppresion and struggle as you venture from cell blocks to to zen gardens in your quest to escape the nightmare of Robotomo Bay. In Survival Mode, you are the resident Roboto-5000 of a large island complex where the regime continually increases its guard count based on your scrap collection. You are feeding the enemy, Break your chains and make your way to the promised "Zenland"!
Forum Thread: Robot Blitz – (by Chillsters) [Universal]
---
Sensei Wars
iTunes Description
Will your Sensei rule the world? Time will tell in the newest combat strategy game that gives you direct control in battle! Define the fighting style of your Sensei to best defend your Dojo, conquer enemy bases and command special healing powers. Train your army to defeat enemies, fortify your base to withstand attacks and join forces with friends by creating a Dynasty for co-op play. Bunker your troops, grab a sword and battle against players worldwide – all attempting to claim the ultimate victory!
Forum Thread: Sensei Wars – (by 2K Play)[Universal]
---
Star Trek Trexels
iTunes Description
The USS Valiant has been destroyed by an unknown attacker, and Starfleet has chosen YOU to continue its mission deep within a mysterious area of space known as the Trexelian Expanse. Build your ship, choose your crew, learn the fate of the Valiant, and explore the Expanse in the name of the Federation.

Good luck. Starfleet out.
Forum Thread: Star Trek Trexels – (by YesGnome, LLC)[Universal]
---
Suburbia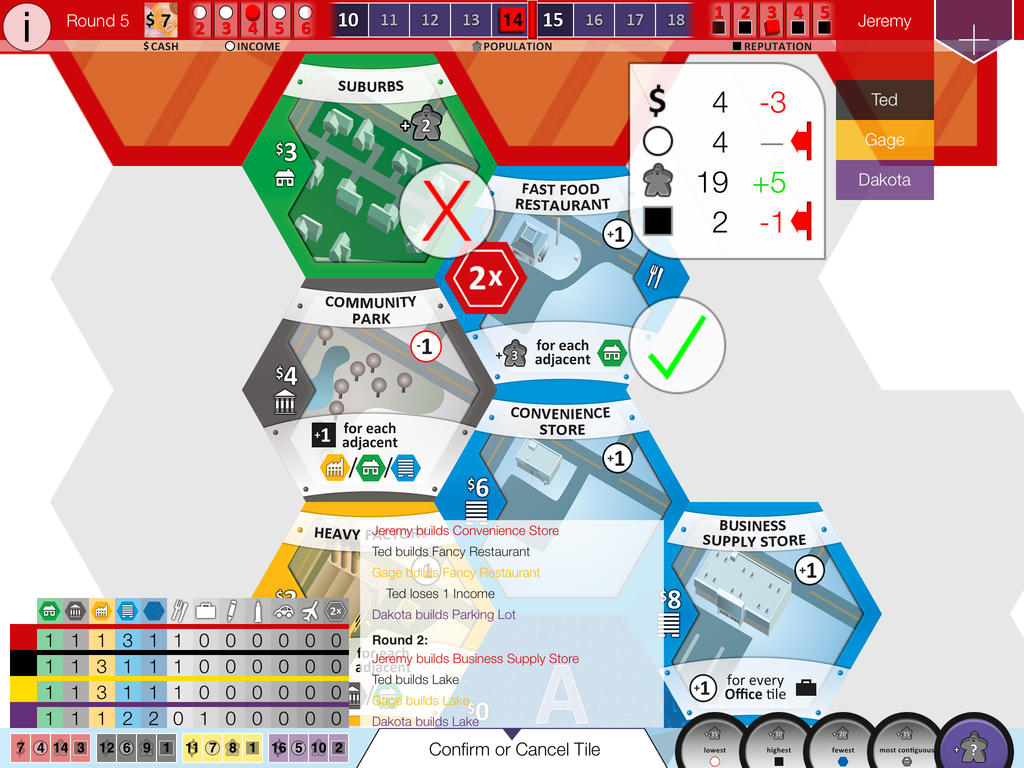 iTunes Description
Ted Alspach's city-building board game is now on iPad! The winner of the prestigious 2013 Mensa Select Mind Games award challenges you to manage a growing metropolis. Choose your strategy carefully as you compete against multiple computer personalities, your friends, and players around the world. Or take on the Single Player Campaign, and travel to real-life cities, each with unique goals. Build residential, commercial, civic, and industrial areas like stores, museums, airports, and of course suburbs. The market is always changing, so spend your cash wisely. Be careful not to grow too quickly, or you'll lose both income and your reputation. Make the right moves to grow your population and you will emerge victorious!
Forum Thread: Suburbia for iPad (City-Building Board Game) Now Available
---
Tekken Arena
iTunes Description
The First Massively Multiplayer Tekken Strategy Fighting Game! The international conglomerate, G-Corporation is holding MMA competitions across the globe in order to recruit the greatest fighters in the world. Never before has a tournament of this magnitude been opened to the public. Now is the time for you to realize your potential and take charge of your destiny. Take the role of one of eight Tekken characters or create your own custom MMA character and embark on a journey to prove that you have what it takes to be a champion. To be the best, you must increase your fortitude by traveling across the globe, completing quests and expanding your notoriety. Train in your own personalized gym to build up your strength, endurance and perseverance. When the time is right, battle in the streets for cred or take it one step further and prove yourself in the Championships.
Forum Thread: Tekken Arena – (by NAMCO BANDAI Games)[Universal]