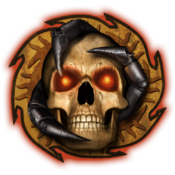 Hey Baldur's Gate fans, have you been dying to get your hands on Overhaul Games' revamped mobile version of the second entry in the series? Well, good news, as Overhaul's own Trent Oster has confirmed over Twitter that Baldur's Gate II: Enhanced Edition has been sent off to Apple for approval. That means that if we're really lucky, it'll get improved just in the nick of time before the iTunes freeze on December 21st, or if it doesn't make it for that, should be out very soon after the freeze ends on December 27th. Either way, not long to wait now.
If you're the impatient type, then you can already get Baldur's Gate II: Enhanced Edition for both Windows or Mac through Overhaul's digital distribution website Beamdog, and it's recently been approved and is now available from the Mac App Store as well. Additionally, a massive 1.2 update to the first Baldur's Gate: Enhanced Edition ($9.99) is also being sent off to Apple for approval, again according to Trent's Twitter. The patch vastly improves performance issues in the game, especially the recognition of screen inputs which has been completely overhauled, but it also allows for characters from BGI to be imported into the forthcoming BGII.
We'll give you a heads up when the 1.2 version update for the original Baldur's Gate goes live, as well as when the sequel Baldur's Gate II: Enhanced Edition hits the App Store in the near future.