It's kind of remarkable, given how successful it's been, that we are nearly seven years down the line from the release of Peggle ($0.99) with no real sequel released. Heck, we haven't even seen new stand-alone content since 2008's Peggle Nights. Personally, I blame Plants Vs. Zombies ($0.99) for being so awesome. Well, anyway, Peggle 2 is finally on its way, but it's exclusive (for now) to the Xbox One, so us iOS gamers are going to have to wait a little while longer. What to play in the meantime, though? There are actually surprisingly few games that imitate Peggle around. Well, the makers of the immensely popular Candy Crush Saga (Free), King, have a suggestion: Papa Pear Saga (Free).
Papa Pear Saga is pretty much an unashamed clone of Peggle. The stages are made up of various patterns of fruits and vegetables, with five buckets lining the bottom. You shoot the titular Papa Pears, who don't look a thing like any pears I've seen, from a launcher at the top of the screen, controlling both the angle and the power of the shot. Unlike its inspiration, there are many different stage goals in Papa Pear Saga. The closest ones to Peggle are stages where you have to clear a certain number of a particular fruit, but you'll also be doing things like score challenges, trying to drop a Papa Pear into each bucket, and trying to push large fruits into the buckets. Once you clear the goal, the fireworks start, special music plays, and yes, this is all very familiar.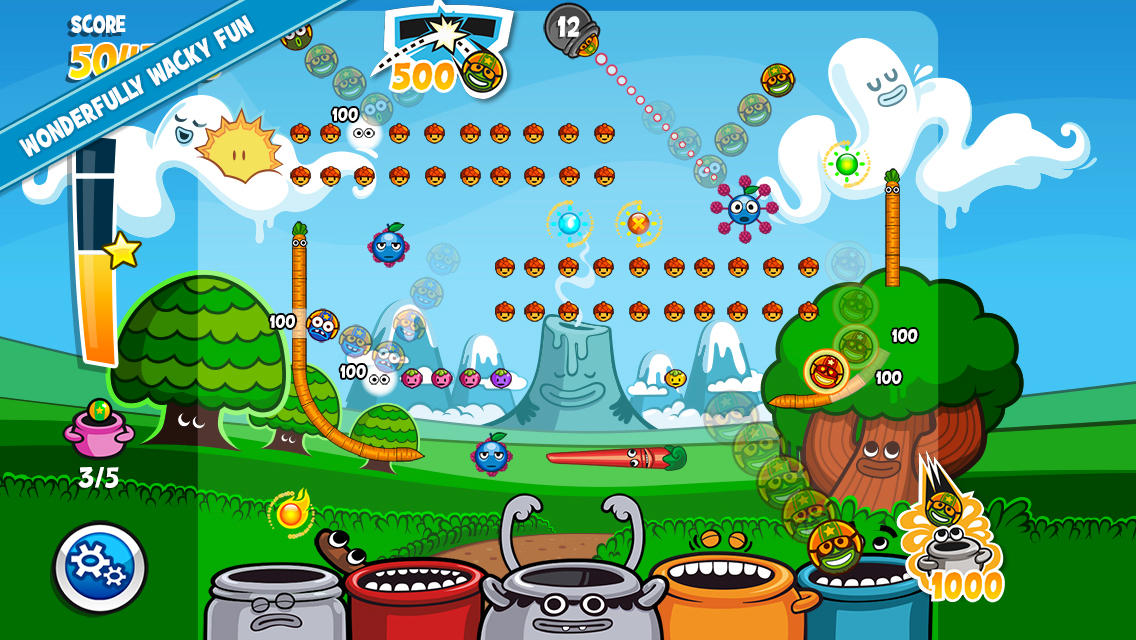 Of course, it's not just Peggle that Papa Pear borrows from. It has a lot of things in common with King's other offerings, both good and bad. First of all, it's extremely difficult, with some stages barely skirting the line between fair and infuriating. Though there are fewer random elements in the game compared to Candy Crush Saga, it's sometimes hard to guess where your shots will end up thanks to certain objects that bounce your pears in unexpected ways. Like King's other offerings, you get a limited number of lives that can be restored either by waiting out a timer or paying up. There are also the infamous power-ups that are handed out in very limited supplies and sold for an absurd price, given they don't actually guarantee victory. Finally, you'll also hit the familiar walls where you have to either bother your Facebook friends, pay up some cash, or do three daily quests to move on.
Every power-up that can be bought can also be earned by performing certain actions within the level, such as bouncing a single pear on the edge of a bucket five times, which makes them even less valuable here than they usually are in King's games. I mean, hey, I'm not complaining, and perhaps when King inevitably adds more onto the existing 100 or so levels, those power-ups will become more useful, but I can't imagine anyone finding any value in them at the moment.
Interestingly, Papa Pear Saga can only be played in landscape mode, which I think is a first for King on iOS. It's understandable, given the general shape of the boards, but it does make the game somehow less pick up-and-play than their other games for me. It's an odd thing to be lazy about, but for some reason, I feel like if I'm going to turn my device on its side, put both hands on it, and essentially advertise to other people that I'm playing something, I'm less likely to do that for a quick time-filler like this game. Kind of a personal quirk, but I bet I'm not the only one with it.
So, I have to confess that while I was playing to write up our tips guide on Candy Crush Saga, I kind of really got into it. The lives and timers are a bit gross, but I actually dig how hard the game is. Sure, it's only hard in an effort to try to entice the player to spend more money, but you know, that describes Gradius and Virtua Cop too, and those games are pretty awesome. It's a game that I fire up at odd times during my day, like when I'm on the bike at the gym or on a coffee break. I try to clear a level or two, and if I run out of lives, it's not a big deal, because I wasn't planning on spending a lot of time with it anyway.
I mention this because as a fan of both Peggle and Candy Crush Saga, I should really like Papa Pear Saga, but it's actually kind of flat for me. It looks and sounds good enough, though in the latter it's years behind the stunning work found in Peggle. The various goals are interesting and keep things fresh. It's certainly challenging enough, although a fair bit easier than Candy Crush and its mean younger brother Pet Rescue Saga (Free). There's just something missing here. After consideration, I think it's that Peggle makes the game feel more dramatic and the player feel more empowered through use of little tricks like close-ups, slow motion, and sound beats. Papa Pear Saga feels a bit more lifeless, and you never really have those moments where you feel awesome for making a crazy shot. The long shots are there, and they're not any more random than they are in Peggle, but it feels less like something you did and more just like random bouncing.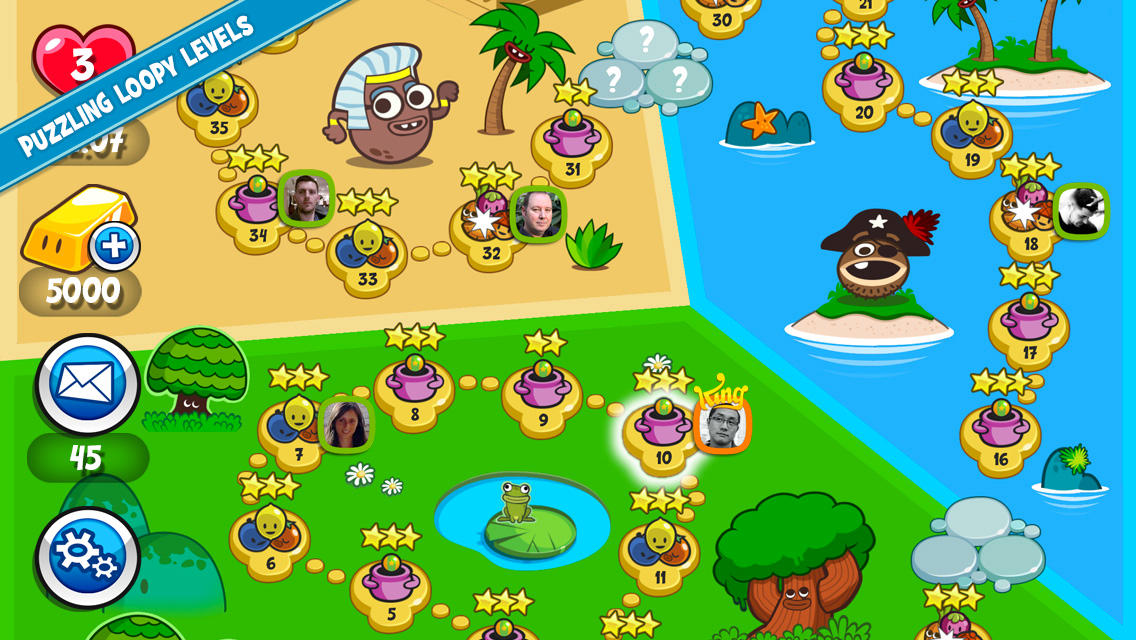 It's nice to have some new challenges with this type of gameplay, and I can't really complain too much for the price, but given the choice between firing up Papa Pear Saga to play some new levels or Peggle to replay some old ones, I find myself leaning more towards the latter. That game feels great to play thanks to a lot of little things done well. Papa Pear follows a lot of the same beats, so it's certainly enjoyable, but I'm not really sure if there's much of a place for it between its inspiration at PopCap and its stablemates at King. If you're a Peggle fan who's completely exhausted the game, by all means, give it a go, you've got nothing to lose, but otherwise, there's really no reason you shouldn't be playing Peggle instead of this.