As if yesterday's onslaught of new releases wasn't enough, SNK Playmore quietly snuck in a new iOS port of their 1997 Neo Geo fighting game The King of Fighters '97 ($2.99) to the App Store. KOF '97 is the fourth entry in SNK's The King of Fighters series, which features a mashup of characters from previous SNK games battling it out in teams of three.
The iOS version is handled by the retro-game-porting experts DotEmu, so if you're familiar with their previous work of porting SNK titles then you can expect all the same types of bells and whistles here. Options for different screen sizes, graphical filters, and highly-configurable controls are all present as usual. In addition, the original game's hidden characters are now available right off the bat from the character select screen, as their previous methods of unlocking via directional inputs and button presses wouldn't really work so hot with the touchscreen. You can even choose between the new style move set for Kyo or the KOF '94 version.
One other very thoughtful inclusion in this mobile port is the "Affinity System" which will allow you to see what sort of relationships each character has with one another by tapping on their avatar in the character selection screen. One of the cool things about the KOF series is its variety of story lines involving the various characters, and there are numerous little interactions certain characters will have with one another during the game as well as tons of different endings depending on which team you assemble and use. Being able to see who can interact with who is a really nice touch of fan service for the game.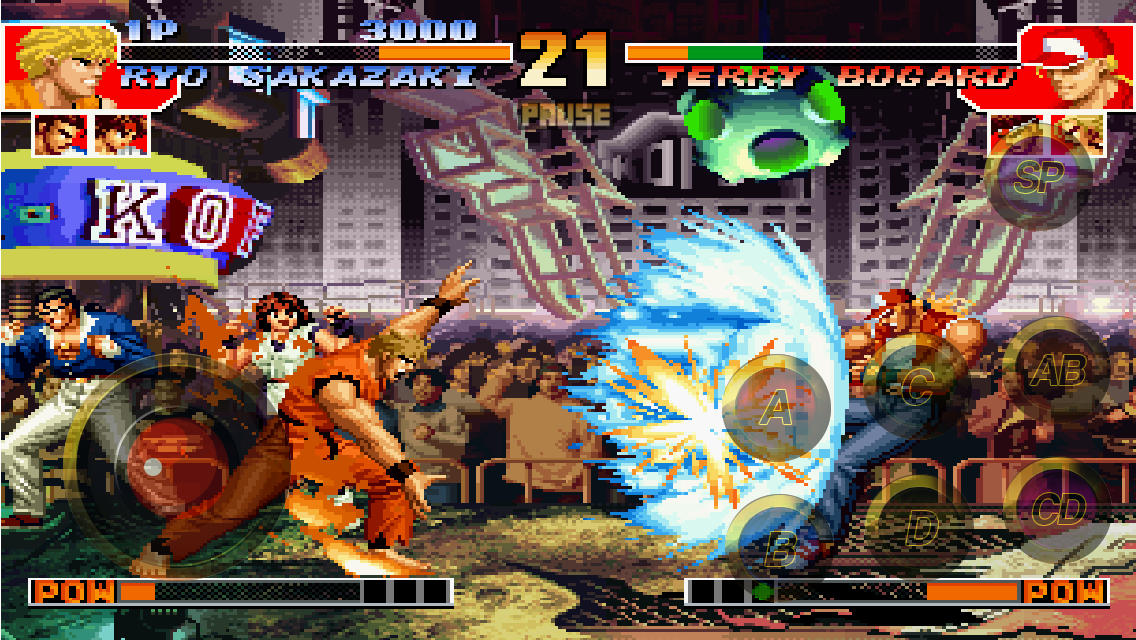 Unfortunately, there's no sort of online multiplayer, which would be a hoot, but there is local multiplayer if you have buddies with copies of the game handy. Finally, though it's not advertised in any way, a little birdie has confirmed to me that The King of Fighters '97 on iOS works with official iOS 7 controllers.
I am a huge fan of the work SNK Playmore and DotEmu have been putting into these Neo Geo ports on iOS the past few years, and I can only hope that it continues in a big way. If you have a special spot of nostalgia in your heart for The King of Fighters '97 and want to carry it around with you wherever you go, definitely give this new iOS version a download and see what others have to say about it in our forums.