Here's some news that's not entirely surprising, but still awesome to actually have confirmed beyond one of Apple's super-vague graphs with no labeled Y axis showing off how much faster new devices are from old ones- Primate Labs, the makers of Geekbench ($0.99) just posted a blog entry detailing the iPad Air's performance.
Here's the results: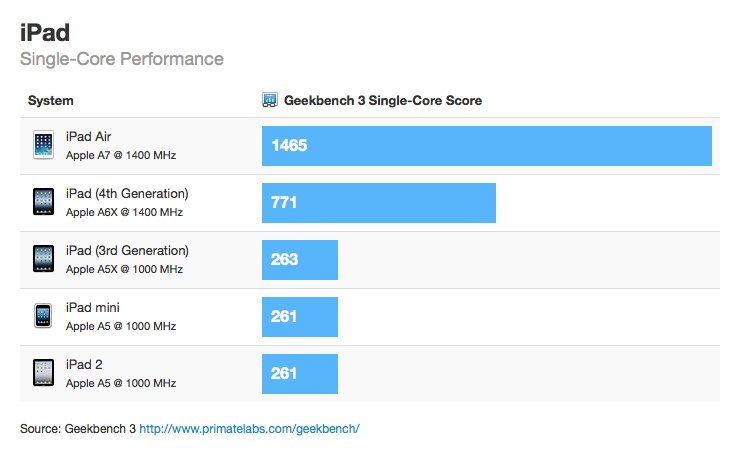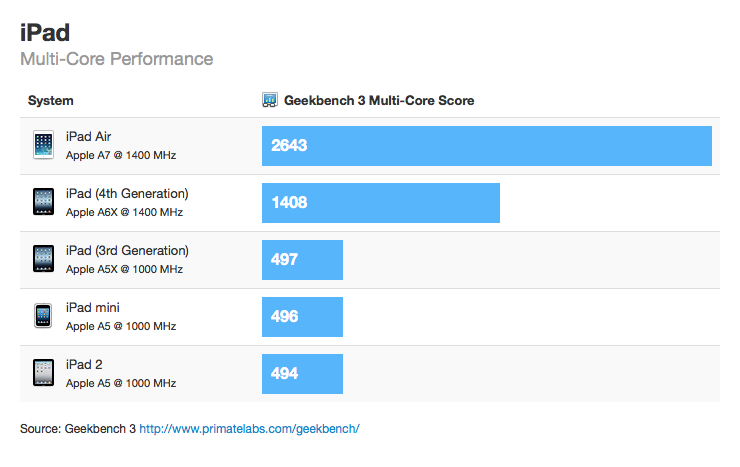 In both single and multicore functionality, the iPad Air's A7 processor absolutely annihilates the previous generations of devices. Primate Labs' John Poole offers some thoughts on the results:
The iPad Air's A7 processor is running at 1.4 GHz, 100 MHz faster than the iPhone 5s' A7 processor. It's not clear if the iPad Air processor runs at a higher speed thanks to a larger battery (providing more power), a larger chassis (providing better cooling), or some combination of the two. I expect the new iPad mini's A7 processor will run at 1.4 GHz as well.

The iPad Air is over 80% faster than the iPad (4th Generation), close to the 2x increase promised by Apple.

The iPad Air is over 5x faster than the iPad 2, yet is only $100 more expensive. I do not understand why Apple kept the iPad 2 around, especially at a $399 price point. What market are they targeting?
I really hope he's right about the iPad mini having a similarly clocked A7, as that thing is going to be a incredible device.