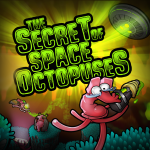 I've slowly watched the mobile market develop more and more console-like experiences. While many gamers are quick to count out iOS and Android gaming as "casual" experiences, the gap is closing more and more each day. While it may have a few issues in tow, The Secret of Space Octopuses (Free) is one such game that pushes that boundary.
In what is easily one of the most "Saturday Morning Cartoon-esque" setups in recent memory, Space Octopuses puts you in the shoes of Little Buddy, a boy who has been kidnapped by evil galactic aliens. In order to fight his way out, Buddy enlists the help of his trusty robot, who has the ability to assimilate and use objects in the environment, and whack everything that stands in their way. Various references like Scott Pilgrim pop up from time to time, which didn't get much more than a smirk out me, but still add a sense of charm and quirk to the game world.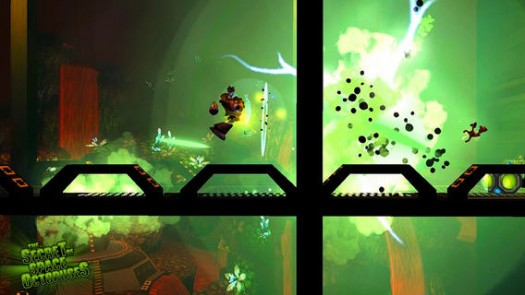 While this seems like a great setup, the presentation of Space Octopuses is easily its Achilles heel. Not only does the game have a pretty horrid tutorial that forces you to learn how to play the game on your own, but it also runs pretty poorly, even on an iPhone 5. After hearing that a colleague here at Touch Arcade was having issues on an iPhone 4S, I was a bit skeptical. Sure enough, there are a number of framerate issues even on my 5, as the game locked up and severely dropped in performance every so often.
Thankfully, the visuals are pretty impressive, which may have caused some of the aforementioned issues. Point blank they look very similar to a console game (I'd recommend playing it on an iPad for the full effect), and the designs themselves have a lot of charm.
Gameplay is very similar to most 2D mascot platformers you've played before, but with a slight twist. In addition to leaping across gaps, avoiding hazards, punching enemies and wall-jumping through various cavernous environments, you'll also have to deal with the game's box mechanic. As you progress through Space Octopuses, you'll have the option to vacuum up different bits of the environment, like sticky gel or plain old steel boxes, and use them to solve various puzzles.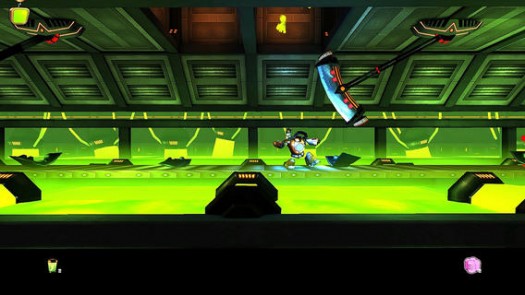 The controls are by way of a virtual d-pad and buttons, which work surprisingly well given their solid placement. In addition to directional controls, you also have a jump, attack, and vacuum button, in addition to a box selection wheel, which works simply enough. To actually use said boxes, all you have to do is tap at the screen or draw a line to fling them to a specific area. While it may seem like virtual buttons aren't ideal, the pace is more inline with a puzzle platformer, so often times speed isn't a focus.
For instance, you might fling jelly at a platform to weight it down and drag it from the ceiling, or simply put bricks on the ground to get to a higher platform. None of the concepts presented in Space Octopuses is rocket science, but it's enjoyable nonetheless to uncover simple solutions to each puzzle, and rewarding once you figure out what to do. Should you lose a life, you'll simply restart next to a close-by checkpoint, ready and raring to go within seconds.
If you've ever played a frantic cartoony platformer like Wild 9, or any other similarly classic PlayStation One game, you'll enjoy Space Octopuses. Before you dive in though, ensure you have a high-end device, and even then, you should prepare yourself for a few technical issues until the developer can iron them out.