It's another Wednesday night, and that means another huge list of new releases in the US App Store. We took most of tonight's releases for a test drive in TA Plays videos, show be sure to hit up the embeds below for a closer look at things. There are definitely some winners this week with a little bit of something for everyone. Also make sure and check out the associated links to the forums for each game to hear more impressions from our community.
---
Amigo Pancho
iTunes Description
Meet AMIGO PANCHO!
Pancho loves going to the highest places in the world! And he does it in an unusual way: by holding on to two small balloons.

Hey amigos, are you ready for the incredible adventures? They`re waiting for you!
Forum Thread: Amigo Pancho – (by Yury Koshechkin) [Universal]
---
Battlehorn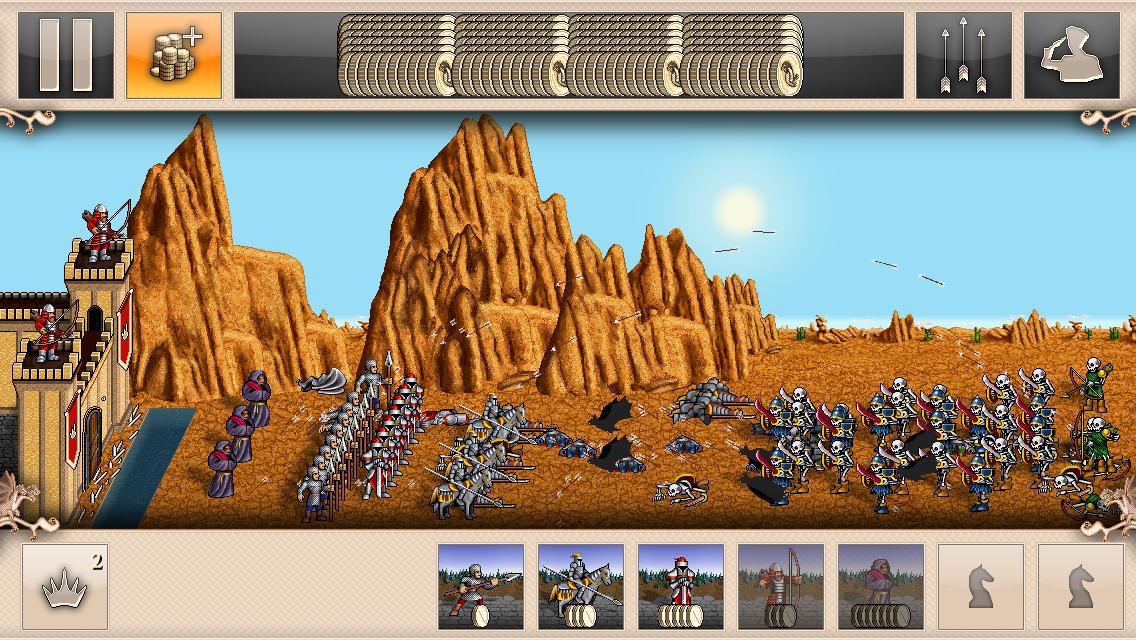 iTunes Description
Battlehorn is a tactical castle defence game offering a thrilling story, rich pixel art graphics, and fast gameplay, which will keep you entertained through all 25 levels.
Forum Thread: Battle Horn (iosoftware)
---
Boson X
iTunes Description
Quantum jump from planck to planck as you hit critical velocity in Boson X, a rotational runner from Mu & Heyo.

Build up speed inside a massive particle accelerator and generate high-energy collisions to discover strange new particles. Use precise timing and fast reflexes to navigate a hazardous subatomic world where floors and ceilings don't exist. Will you be fast enough to find the elusive Boson X?
Forum Thread: Boson X – (by Ian MacLarty) [Universal]
---
Buddy & Me
iTunes Description
Explore the enchanted forest of a young boy's dreams, running alongside his best friend, a magical creature named Buddy. Jump, bounce, swing, glide, and fly together on an endless adventure about friendship, through a beautiful world of treehouse-inspired obstacles, curious critters, and natural wonders.

A one-of-a-kind re-imagining of the endless runner, Buddy & Me features unique "companionship" mechanics, beautifully painted 2D environments, cel-shaded characters, and accessible gameplay for all ages and skills.
Forum Thread: Buddy & Me (by Sunbreak Games) [Universal]
---
Cat on a Diet
iTunes Description
Soft, fluffy, and a little on the chunky side — the podgy pussycat Dr. Meow can't stop munching on delicious cookies and needs your help getting his greedy little paws on more! While his owner sleeps, steal away into the kitchen and help tumble this tubby tabbycat into the prized cookie jar.
Forum Thread: Cat on a Diet – (by Chillingo Ltd) [Universal]
---
Coin-Quest
iTunes Description
Coin Quest is a loot adventure game that combines the familiar play style of coin pusher games such as Coin Dozer, the fast paced arcade action of Be-jewelled Blitz and the RPG elements of Puzzle Quest and Diablo. Play against the clock to push loot towards a collection zone, hazards such as spiders and boulders steal away or destroy your items.
Forum Thread: Coin-Quest – (by Superflat Games) [Universal]
---
Dragon Era
iTunes Description
A perfect combo of Slots, RPG and CCG – a unique game you must experience!
Embark on an epic voyage you should never miss! – Get it for FREE today!
Forum Thread: Dragon Era – Slots Adventure [Slots / RPG / CCG by Playmage] [Universal] – FREE
---
Drop That Candy
iTunes Description
Gizmo LOVES sweets but they are all trapped behind glittering vending machines. In this addictive puzzle game, connect and tap the delicious colored candy to feed Gizmo. Complete each level in the least amount of moves to unlock even more worlds, each with their own set of tricky hazards.
Forum Thread: Drop That Candy – (by Greenfly Studios Ltd.)
---
Fading Fairytales
iTunes Description
Fading Fairytales brings together familiar fairytale characters with a unique twist. The world's craziness is elevated to a whole new level with the emergence of a mysterious dark force. Fight the corruption of formerly good fairytale folk and take out the likes of Robin Hood, Pinocchio and Aladdin as you explore and battle through the vibrantly colorful world inhabited by some of the wackiest personas you have ever seen!
Forum Thread: Fading Fairytales – (by Crescent Moon Games)[Universal]
---
Gamebook Adventures 8: Curse of the Assassin
iTunes Description
Curse of the Assassin is written and designed by S.P. Osborne, author of GA1, and takes you back to the familiar surrounds of Orlandes City where you pick up your life some time after the events in An Assassin in Orlandes. Youve risen through society after dealing with Eltane and saving the city, capturing the affections of the Dukes daughter along the way. The mysterious death of friend arouses your suspicions and once again you find yourself at the heart of conspiracy that takes you back to your home village and a meeting with your old adventuring party from your youth.
Forum Thread: Gamebook Adventures 8: Curse of the Assassin – (by Tin Man Games) [Universal]
---
Meadowland
iTunes Description
In Meadowland you take the role of a faerie, and you are free to explore the world as you see fit, in any pace you deem necessary. As you explore the landscape you will come across magic, secrets, people, and hopefully, a purpose. The point of the game is relax and enjoy the experience provided. Let yourself be immersed, and take the time you need to see everything.
Forum Thread: Meadowland (by Marten Jonsson)[Universal]
---
Pocket Trains
iTunes Description
From the creators of Pocket Planes comes Pocket Trains! Manage and grow multiple railroads
by hauling important cargo around the world. Collect parts to construct all the different train types from Steamers to Diesels, and complete daily events to unlock special trains beyond imagination! Stop reading and start constructing your railroad empire in Pocket Trains!
Forum Thread: Pocket Trains – (by NimbleBit LLC)[Universal]
---
Six O'Clock High
iTunes Description
Is it a bird? Is it a plane? YES, it's a plane!

Six O'Clock High is a chaotic new aerial dogfighting game. Take to the skies with super easy and intuitive controls, luscious unique graphics and a thirst for gunpowder!
It's all about becoming an aerial ninja by piloting your plane throughout waves of increasingly skilled enemies. The best fighter aces will be sent against you, do you have what it takes to win the day?
Forum Thread: Six O'Clock High (by ColePowered) – Aerial Combat Survival
---
Shadowrun Returns
iTunes Description
The unique cyberpunk-meets-fantasy world of Shadowrun has gained a huge cult following since its creation nearly 25 years ago. Now, creator Jordan Weisman returns to the world of Shadowrun, modernizing this classic game setting as a single player, turn-based tactical RPG.
Forum Thread: Shadowrun Returns – (by Harebrained Schemes LLC)
---
T.E.C 3001
iTunes Description
In T.E.C 3001 (Tesla Energy Collector), you are guiding a cutting-edge technology robot to collect virtual space energy leftovers for humanity.
With great graphics and a unique heart-pumping soundtrack, T.E.C 3001 has what it takes to keep you on the right track.
Forum Thread: T.E.C 3001 (by Bulkypix) [Universal]
---
Trace 2
iTunes Description
The sequel to 2008's hit puzzle platformer is finally here! Trace 2 features eight brand new worlds to explore and tons of new gameplay mechanics to discover. Use the touch screen to draw platforms and navigate past obstacles to reach the goal at the end of each level.
Forum Thread: Trace 2 (by Kevin Calderone)[Universal]
---
Trouserheart
iTunes Description
Trouserheart is all about fun, instantly accessible, pick up and play hack'n'slash gameplay with playful art style and humorous tone. Super fluid controls with options for both fixed and floating modes make the game a joy to play for beginners and veteran gamers alike. The game offers two difficulty levels and even an optional perma-death mode for the bravest of adventurers!
Forum Thread: Trouserheart – (by 10tons Ltd) [Universal]