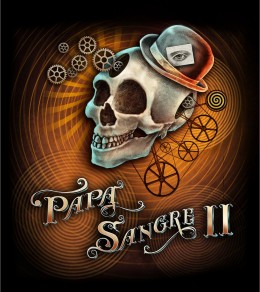 Graphics have long been a staple in video games, often being the measure for how far games have evolved over the years as hardware gets better and better. However, in December of 2010, studio Somethin' Else wondered what a video game might be like that didn't have graphics at all. In Papa Sangre ($4.99), you were led on an adventure using nothing but audio cues. It might sound dull, but it totally wasn't. If anything, it made the experience all the more real as you had to really hone in on your sense of hearing to react to what was happening in the game. Using a technique called binaural audio, the sound in Papa Sangre was very convincingly all around you. It's the sort of thing that wasn't for everybody, but it was a great technical achievement and the production values were incredibly high.
We've known for a couple of years now that Papa Sangre 2 was in the works, but today we have learned that famous English actor Sean Bean, most notably from Lord of the Rings and Game of Thrones fame, will provide narration for the game. Also we've learned that the story will revolve around your own death. How… lovely. And, according to this description in this teaser, Papa Sangre 2 will be out on Halloween.
If you haven't tried out Papa Sangre before, it really is worth a look just for its uniqueness alone. Be sure to check out our original review of the game, and if you decide it's something that's up your alley, you can check out Somethin' Else's follow-up title The Nightjar ($3.99) which is a similar auditory adventure. At any rate, gear up to get your scare on when Papa Sangre 2 lands this Halloween.