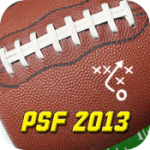 While hard hits and dazzling end zone plays seem to garner most of the attention when it comes to American Football, there's a deeper strategy element that sometimes gets overlooked. Pro Strategy Football 2013 ($1.99) looks to celebrate that facet of football with gameplay that focuses exclusively on the play-calling and scouting elements of the game. It succeeds well in this regard too, making it a must-play for any technical fan of the game.
If you're hoping that Pro Strategy Football 2013 will satisfy the current void of a console-like football gaming experience, you'll have to look elsewhere. The visuals are reminiscent of the old-school Tecmo Super Bowl, there are no team or player licenses, and you can't directly control your teams. Instead, PSF places you squarely in the role of the head coach and that means a wealth of options.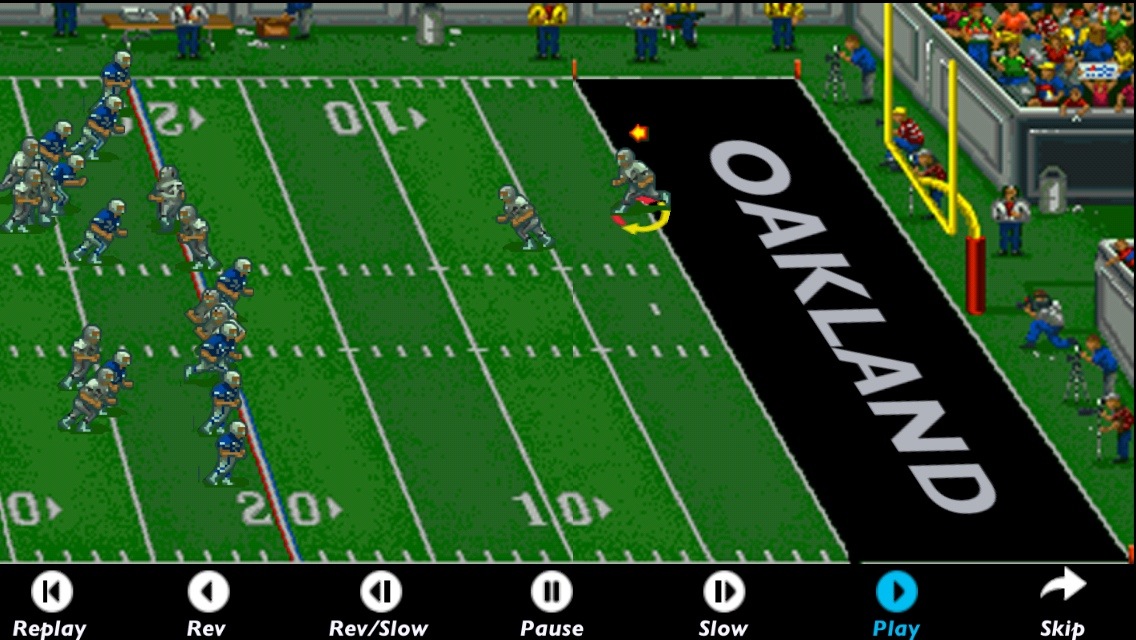 From the moment you start a game in Pro Strategy Football, you'll get to control nearly ever aspect of every play that your team runs. Defensive and offensive formations, actual plays, motions, blitzes, ball carriers, time management — all are customizable via the game's many menu screens. Of course, seeing how you can't actually control your players, you'll have to rely on scouting the opposition (teams and players are rated on a variety of simple attributes) as well as your own players to determine the best plays to run. However, the opposition AI is smart enough to eventually adapt if you run the same plays over and over, so you'll have to make sure to put some variety in your play calling.
In this regard, PSF almost plays out like an incredibly elaborate puzzle. There are a lot of variables always during a football play that require constantly consideration. Secondary aspects, such as weather and injuries add further complications to the game. In addition, the game isn't very forgiving from an AI standpoint, as impatient players simply selecting plays without thought will never win a game. However, it's very rewarding to execute a successive string of plays and actually outsmart the opponent. This is especially true in the game's multiplayer offering, which I found a bit more satisfying than the Season and Scrimmage-based AI. Finally, a scenario editor adds some replayability by letting you create any number of situations to play through.
While the head coach-oriented perspective of Pro Strategy Football will delight football experts, one area that I really enjoyed about PSF is its newbie-friendly explanations for nearly every option. Every play, general formation, and defensive schemes has some sort of explanation attached to it and typically provides a beginner-friendly descriptive along with pros/cons for choosing each option. Meanwhile, a text-heavy overarching tutorial also does a good job explaining nearly every facet of the game. I would have actually liked even more in-depth tutorials on the various options within the individual plays, but as it stands I was pretty impressed at the effort Pro Strategy Football makes for the uninitiated.
Obviously PSF 2013 isn't without its nagging faults. The game's menu system lacks polish both in terms of visual aesthetic as well as actual usability. Sure, with enough familiarity you'll be able to sufficiently tailor most aspects of your play, but you're going to be exploring and looking up the tutorials on each window until you can figure out what each option actually does. In addition, the lack of any licenses makes most teams and players feel a bit generic. I also encountered a few bugs where plays would go on indefinitely until I hit the 'Skip' button (which would frustratingly usually end up with a negative play on my end).
Still, other than the last complaint, the rest are purely gripes that really don't address the heart of Pro Strategy Football 2013. True fans of football play-calling aren't going to care about visuals, or even (to a certain extent) how obtuse the menu system is. All that'll matter to them is whether the game offers enough options to satisfy the head coaching urge and whether the game is honest in its statistical underpinnings. In these regards, Pro Strategy Football passes with flying colors. It may not fill the need for a traditional iOS football game, but football fans looking to explore the tactics behind the tackles really need to check this gem out.