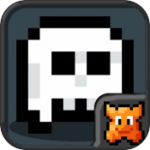 Heroes of Loot ($3.99) by Pascal Bestebroer is not just another fantasy RPG. I hadn't played an old-school crawler like this in some time so the dread of disconnect and an extremely high level of entry were present before I even booted the app. Moments after clearing my first dungeon, I was given the treat of old-fashioned grinding in its purest form. While running and gunning my way through the ghoulish hordes with metal and magic, I was surprised by the smooth gameplay and understated strategy that makes the app illuminate a corridor in the genre all its own. Heroes of Loot provides a speed and intensity that keeps me on edge, sprinkled with a sensible amount of wit and satirical nodding, keeping the experience inviting and ever-playable.
When it comes to presentation and gameplay, Heroes of Loot is stellar. My crew of whimsical character classes prepares to scrounge up treasure and hack through continuous dungeons. Each has a variation of skills ranging from strength, magic, and XP. As XP is gained, each class develops neat and new combat animations. Yet, I soon realized that two of the four characters were far more superior in combat while traveling harder dungeons. The stages are large enough to get lost in, and – with the right inventory – compact enough to perform risky speed-runs.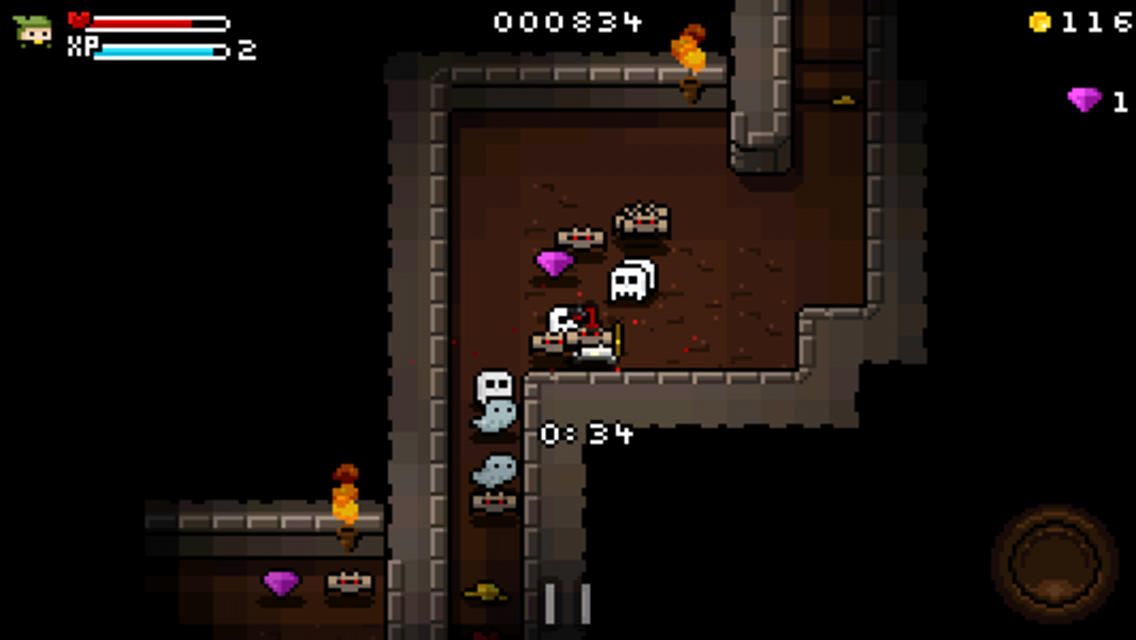 The enemy seems to scale really well with the leveling-up of my character and maintains the well-balanced combat in numerous arenas. After long gameplay sessions, I feel the dungeons lack variation and seem to advance my character to a different corner of the same square. However, the additional shops, challenge rooms, and secret areas somewhat keep the maps interesting and dynamic enough to not become unbearable. Breaks are definitely needed; with lots of dry humor during short cut-scenes, I could crack a smile while my thumbs received a much needed rest before more hectic arenas were entered. Heroes of Loot also sports a much appreciated quick save option to continue the grinding progress at my own super-slow and deliberate pace.
Lightly covered in slick pixel-art is a fast-paced shooter that handles excellently. The controls feel purposeful for immediate enjoyment by including a single virtual button for attack/shoot. Hours of adjusting to a virtual d-pad/buttons and inevitable irritation are avoided as combat is assisted via auto-aiming and movements can be directed by tapping anywhere on the left-side of the screen; standard attacks and magic are controlled within one button, the integrated skill of striking and using magic whilst conserving my spell mana, coupled with permadeath, are interesting and forward-pushing challenges that makes rookies into heroes and heroes into masters.
It keeps me from blindly entering heavily guarded areas and allows for experimentation with multiple attacking strategies. My only beef with auto-aim is when in tight quarters (any dungeon), the necessity to quickly focus attacks in any particular direction also requires me to face and almost certainly walk a short distance toward the very enemy I'm attempting to hit. It is a small knock but was absolutely the reason for many grave endings on many occasions.
Touting leaderboards, special artifacts, and permadeath, there is a wide assortment of inspiring gameplay to keep any Apple device's battery draining for hours. With more updates coming to this frenetic yet tremendous app, it is a must own for newbies and dungeon vets alike. Players in the forums dig this app as well, so let us know if you like Bestebroer's applauded effort as much as we do.