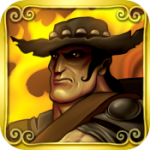 It doesn't get much more TA Plays Rewind-y than iDracula ($2.99). Originally released in February of 2009, iDracula was among the first games to really up the quality bar of what to expect on the App Store, as games slowly started to evolve into "iPhone games" rather than "games that run on the iPhone". iDracula was among the first dual stick shooters to hit the App Store, and as you can see in early coverage for the game, we were super stoked for it at the time. It hit #1 on the App Store soon after release, and the rest was history.
Watch us fire up our time machines:
As we mention in the video, I'm not sure there's a whole lot of reason to pick up iDracula now when there are way better dual stick shooters available on the App Store. However, it's really neat to look at these super-old games that we used to call "AAA" and compare them to what we're used to now.