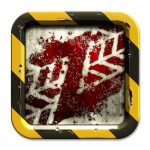 The original Zombie Highway (Free) was an easy game to love. It nailed the short-session pick-up-and-play thing that works so well on mobile devices, it leans on a racing mechanic which almost always pairs perfectly with tilt controls, and they use zombies in an interesting way. In the original, you drive along a road, zombies hop on your car, and you've got to get them off in order to survive and see how far you can go.
Zombie Highway: Driver's Ed is very similar, to the point that if you played the original you can just hop right in and skip the tutorial and be right at home. Aside from being a fun game, it's a great sequel too in that it takes everything that was good about the original and fleshes it out further with a new objective system, all sorts of upgrades, and a super-sophisticated world-building algorithm which developer Kevin Pazirandeh is super proud of as it provides totally procedurally generated content with neat set pieces to make every run feel totally different.
Here's out first ten minutes with the game:
We'll have a full review of the game when it launches, and the release date is currently slated for September 5th. It's going to be 99¢ out the gate, and as far as we can tell IAP is extremely limited to things like buying more cash (Which the game doles out very generously anyway.) and a cash doubler, which I always pick up in these sorts of games.
Look forward to more coverage on Zombie Highway: Driver's Ed as we get closer to the 5th.