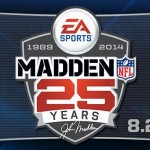 Earlier this week, Madden 25 appeared in Canada as part of EA's soft launch of the game. The full-blown console version is scheduled to launch next week on the 27th, and if previous years are any indication, you can place your bets on the iOS version going live around that time as well.
We wanted to give everyone a sneak peek at what Madden 25 has in store for us, but, well, the results were unexpected. In our experience, the game is super crashy, to the point that we really couldn't even play the game. We eventually just get fed up with the whole thing and play some Chillaxian ($1.99) and Asphalt 8 (Free) in between crashes.
To be fair, figuring out these sorts of things are what soft launches are for… We'll do another video of the game sometime next week after the proper US launch provided it sees some sort of update and is actually playable. We'll also be able to spend some money on the game too, which will hopefully give everyone a better idea of what's behind the many seemingly IAP-heavy functions of the game.
Canadian App Store Link: Madden 25, Free (Universal)