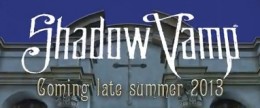 I love games that play with lighting and shadows, like one of my all-time favorite games Helsing's Fire ($0.99). Now another one has caught my eye called Shadow Vamp from Gamesmold, who you may remember from last year's interesting runner Blood Roofs (Free).
The gist of Shadow Vamp is that you're a vampire who spent too much time hunting at night and is now stuck with making his way back home during the day. Vampires and sunlight don't get along, so you'll need to keep your vamp in the shadows as much as possible. Luckily you can rotate the entire world at will to change the direction of the shadows. And, if you really can't avoid the sun, you can slather on some sunscreen to be temporarily protected. Really, check out how awesome Shadow Vamp is looking in this trailer.
If you're liking the look of Shadow Vamp like I am, you can head into our forums for some discussion and interaction from the developer. Also don't forget to add Shadow Vamp to your TouchArcade (Free) Watch List to get alerts when more news surfaces. Shadow Vamp is said to be "coming very soon" so hopefully we won't have to wait too long to get our hands on this very cool looking title.