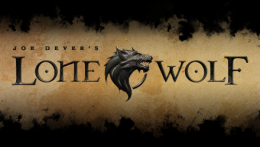 One game that is heavy on my radar is Joe Dever's Lone Wolf from Forge Reply and being published by Bulkypix. We checked out a build during E3 this past March, but a technical hiccup prevented us from capturing footage at that time. Thankfully Forge Reply shot us a build the following month, and Brad and I took Lone Wolf for a spin in a TA Plays video.
As you would have seen from said video, Lone Wolf unleashes a pretty awesome surprise. It's a gamebook at its core, doing many of the things you'll see in various other gamebook adaptations on the App Store, and doing them incredibly well I should add. However, when it comes time for combat, Lone Wolf blossoms into a full-fledged 3D turn-based battle, and it's hard to adequately describe just how much that brings the entire experience to life.
Anyhoo, Forge Reply is out at Gamescom in Germany this week showing off Lone Wolf, and they've released a brand new trailer for the occasion which you should definitely check out.
As announced on Forge Reply's blog, the official title of Lone Wolf will be Joe Dever's Lone Wolf – Blood on the Snow, and it will be divided into four parts. The first part will be published by Bulkypix in November, so if you've been impressed by our hands-on time with Lone Wolf as well as this newest trailer, make sure it's on your TouchArcade (Free) Watch List to get alerts when more news hits as the release of Part 1 draws near.