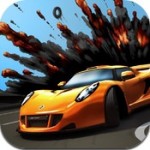 Hey Singapore, if you have always felt jealous that Canada, Australia and New Zealand got all the soft-launch love, then this one is for you. Last week we debuted the first trailer for Smash Bandits, the sequel to Hutch Games' popular cops-and-robbers top-down combat racer Smash Cops ($4.99), and today the game has soft-launched in the Singapore App Store. Why soft-launch in a smaller market? Well, the game is free-to-play, and Hutch will likely be looking to test their systems and make some adjustments before releasing Smash Bandits into the wild worldwide.
That's great news if you have a Singapore App Store account, but if you don't and you missed out on Smash Cops the first time around, I still have some good news for you. For a limited time the original game has dropped its price to free, down from $4.99. That's a pretty awesome deal, as we really liked Smash Cops in our review when it launched last year.
Hutch had originally planned to launch Smash Bandits sometime this month, so this might be a short soft-launch period. We'll let you know when a full worldwide release happens, but in the meantime you can grab Smash Bandits from the link below if you're in Singapore or you can read up on early impressions from players in our forums. Also don't miss out on grabbing the first Smash Cops while it's currently zero dollars.
Singapore App Store Link: Smash Bandits, Free (Universal)