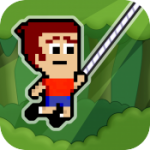 It doesn't get much more TouchArcade Game of the Week-y than Mikey Hooks ($1.99). Not only is the game a fantastic sequel to Mikey Shorts ($1.99) (also available in a Halloween (Free) variety), but it perfectly embodies the spirit of indie iOS development. The two developers met here on the TouchArcade forums competing for scores in Hook Champ (Free), and with no experience in game development (or even meeting each other face to face) they decided to make a game. The original was great, and the sequel expanded on the similar speed-running formula with a hooking and swinging mechanic that feels totally natural, and almost like it just should've been in the game series all along.
If you need additional convincing to give the game a look, check out our five star review, or even swing in to the forum thread which had exploded with satisfied players trading their best times.
Seriously, give this game a look, or, if nothing else download one of the free versions of Mikey Shorts. It's at least a little mind blowing that two totally green developers and total internet strangers could make something so awesome.