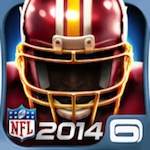 A new Madden is probably coming down the pipes from EA, but for the moment, Gameloft has the whole iOS NFL football scene on lock. This morning, the publisher pushed out a giant update to its free-to-play NFL Pro Football app in anticipation of the upcoming 2014 NFL season. Also, it changed the game's name to NFL Pro Football 2014 (Free).
For the most part, this update seems to try to tackle the various graphical oddities of last year's game, but the update also added the 2014 Superbowl to the Season mode and it allows for users to learn and edit over 200 different plays.
The unfortunate side of this? You won't see real players or get to play as your favorite rookies — Gameloft still hasn't secured the rights to names, it seems.
It'll be interesting to see what the new Madden is this year, especially since Gameloft has a jump on it with this game. Regardless, if you want NFL football on your phone now, this is the game you've been looking for.