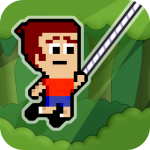 There's a bunch of cool games coming out tonight, but my pick for the no-brainer download of the week is easy: Mikey Hooks. I've been anxiously awaiting BeaverTap's Mikey Shorts ($1.99) follow-up since it was unveiled earlier this year, and it's been more than worth the wait as Mikey Hooks delivers everything you could ever want in a sequel to one of iOS's best platformers.
If you played Mikey Shorts last year, things will feel mighty familiar in Mikey Hooks. Obviously the big change is the ability to swing from parts of a level using a grappling hook, but this mechanic has been implemented so well it almost feels like it's always been there. In fact I went back to play Mikey Shorts after playing Hooks all day and kept holding down the button as if I was going to swing from something. Like jumping and sliding, the hooking blends seamlessly into the game and offers another way to traverse terrain and shave seconds off of your completion times.
You can also get hurt in Mikey Hooks, a first for the series. In previous games the enemies were merely impediments to your speed, annoyances that would cause you to restart when they ruined a good run. In Mikey Hooks you can actually get hurt by spikes and certain parts of enemies. It doesn't change a whole lot about how you play, as if you're concentrating on a speed run you'll likely immediately restart when you hit an enemy or spike anyway, before you actually lose all your hearts and die. But if you're just trying to play through the level, you do have to exercise more caution than in previous games.
Besides the fundamental changes of hooking and damage, Mikey Hooks is still all about the levels. Perfectly timed jumps, slides and now hooks will lead you towards victory and a 3-star completion time. Also, don't forget about collecting every coin and the hidden golden shorts on each level, and in place of the previous game's Challenge levels there's now Racing levels which include AI ghosts to race against. It's basically a conucopia of Mikey goodness, so mark it on your TouchArcade (Free) Watch List to get an alert when it hits the US App Store tonight and check out the impressions in our forums for more discussion.
International App Store Link: Mikey Hooks, $1.99 (Universal)