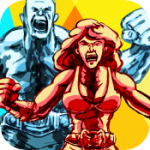 I love reading, but I sure don't do enough of it. Too many video games to play, you know? Well, combining reading with video games seems like a solid solution to that problem. Choice of Games has been releasing choose-your-own-adventure style gamebooks on iOS for the past few years, and we've previously enjoyed and reviewed a couple from their extensive library, specifically Choice of Kung Fu ($3.99) and To the City of the Clouds ($2.99).
As a huge pro wrestling fan (yes, I know it's "fake") one of their more recent releases caught my attention. It's called Slammed! ($5.99) and it follows the story of a young upstart wrestler on his or her journey through the ranks of professional wrestling circuits and on to the big time. Seeing as there's a lot of crossover between gamers and wrestling fans I thought some of you out there might be interested in something like Slammed!
I've only just begun on my journey, but already my character is shaping up nicely. I don't have a ton of experience with gamebook type things, but I really dig how all the choices in Slammed! thus far have focused on shaping my wrestler's personality.
You start by picking your gender and then naming your wrestler. I'm known as The Amazing Mop, a former janitor turned wrestler who "mops" the floor with the competition. Heh. Being that I was plucked into the world of wrestling with zero experience, my actual in-ring skills are lacking, but my skills on the microphone are how I'm making my mark. Sometimes strong charisma can trump physical ability in the crazy world of pro wrestling.
Another thing I'm really liking about Slammed! is that it doesn't shy away from the nitty gritty, behind-the-scenes world of pro wrestling. On the surface pro wrestling offers larger-than-life characters, daytime drama-esque story lines to follow, and plenty of impressive in-ring acrobatics that, pre-determined outcome or not, take a lot of skill to master. Beyond that surface, pro wrestling can be a cutthroat business as performers jockey for the spotlight and promoters try to make money off of sometimes naive talent. For those that really dig into the depths of pro wrestling, Slammed! is a fun world to explore.
Like I said I'm not too far into my story just yet, but I'm having a lot of fun with Slammed! so far. It's refreshing to play through a role-playing type experience that's not based in some fantasy world. If you like reading, video games, pro wrestling or any combination of the three, give Slammed! a look.