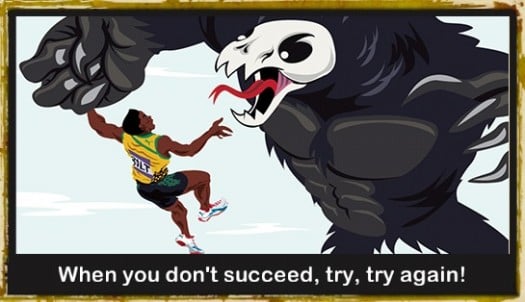 Well here's my pick for weird thing of the day. Imangi's Temple Run 2 (Free), sequel to the seminal behind-the-back runner that spawned an entire ecosystem of similar titles, has just been updated with Usain Bolt as a playable character.
Yeah, world record holding, Olympic gold medal winning, "fastest man in the world" athlete Usain Freaking Bolt. How cool is that?
It makes sense, too. Well, not the part about Usain Bolt being in an ancient Mayan temple escaping from a crazy demon monkey thing. Not that part. But the running part, that totally makes sense.
Usain's special ability also, er, sort of makes sense. Activating it gives you an electric bolt shield which gives you invincibility, auto-guidance, and it attracts coins. Because bolts. And running. It's all a rich tapestry.
This new character doesn't come for free, though. Usain Bolt will set you back 99¢ as an in-app purchase, and he isn't available to buy using the game's own coin currency. Also, apparently he's only available for a limited time, so if you need a tiny world-class athlete living in your device you might want to snatch him up while you can.