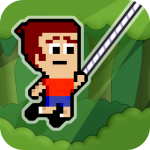 This past February BeaverTap Games unleashed an all-to-brief teaser for an upcoming sequel to their 2012 hit platformer Mikey Shorts ($1.99), titled Mikey Hooks. As you might have guessed, Mikey Hooks takes the platforming basics of the original game and adds a hook-swinging mechanic into the mix. Or I guess you might have guessed that Mikey now had hooks for hands or something too, which also sounds cool, but I think the swinging is much better. In addition to the hooking, this time around enemies and parts of the environment can actually hurt you, so there is a greater element of danger than there was in the first game.
If you were hyped for the teaser before, then get ready to enter ultra-hyped mode as BeaverTap has announced that Mikey Hooks is finally submitted to Apple, and to celebrate they've created a brand new full-length trailer. Enjoy.
I had the opportunity to play a really early version of Mikey Hooks last December, and to be perfectly honest I wasn't totally sold on the hooking. It felt a bit forced and kind of clunky, and I was genuinely worried how it would all end up coming together. However, this past June at WWDC I tried out a nearly final build and all my worries instantly vanished. I'm not sure what sort of special tweaks or secret sauce they dumped into Mikey Hooks during that time, but whatever it was it worked. The hooking felt perfect, and gelled with the rest of the game beautifully. Really, if you enjoyed the original Mikey Shorts like we did, then you'll be in for a real treat with Mikey Hooks.
With 36 new levels across 6 environments, and of course more than 220 new disguises to wear, this is shaping up to be another stellar entry in the Mikey series following the original and last year's Mikey Shorts Halloween (Free). As soon as Apple gives Mikey Hooks the green light we'll let you know a release date, until then check out what folks in the forums are saying about this long-awaited sequel.