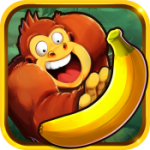 One of the most popular runners amongst our community is FDG Entertainment's Banana Kong (Free). It's not just our community that seems to love it so much either, as Banana Kong is the most popular and successful game out of FDG's entire lineup of mobile games. Well, last week a huge new update hit for Banana Kong and to celebrate the new update and the game's overall success FDG has dropped the price to zero for a very limited time.
You might recall if you watched our TA Plays video of Banana Kong that the game took place in three different environments. The main environment is the ground floor of a jungle, but you could also swing up and play along the treetops. You could also boost into an abandoned mineshaft entrance and play in an underground mine area. The three settings all played just a bit differently from each other, and is one of the aspects that makes Banana Kong stick out from the huge pack of other running games.
This latest update adds another new environment: an underwater level. By entering a yellow pipe on the jungle floor, you'll be transported down to a water level which turns the gameplay into a cave flyer. Here piranhas, jellyfish and other underwater foes will slow you down as you try to escape a pursuing crocodile, but if you manage to grab onto a turtle you can catch a safe ride. This new trailer shows off some of the new underwater level.
Also in this update are customizable hats and parachutes, some new power-ups, and some tweaks to the existing environments to make them even more varied. As stated, Banana Kong is currently free to celebrate the new update but it won't be for long, so if you have yet to snag it and you enjoy a good endless runner be sure to check it out.