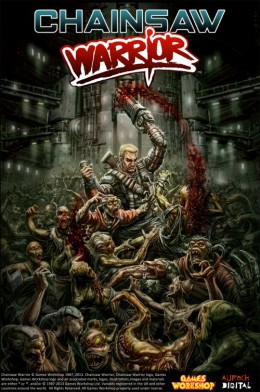 Another Games Workshop iPad and iPhone game was announced this afternoon. Auroch Digital in partnership with Games Workshop is working on a digital recreation of the 1987 zombie board game Chainsaw Warrior. You know, the game that puts you in the shoes of a Chainsaw Warrior on a quest to find a source of evil "spewing through a spatial rift" in a zombie infested New York? That game.
A release date hasn't been finalized yet, but Auroch says it should be out at the end of this summer. Speaking to why the studio has decided to do a game based on this IP, design and production director Tomas Rawlings had this to say:
"It's a game I played as a kid and loved. I see it as the precursor of FPSes when video games technology could not really do the first person or the shooting. For me this is not only a great game, but a classic of board game design — a solo shooter that really challenges the player."
"When we spoke to Games Workshop about developing a game this was the top of my list. I loved the 80s style of the game and we've kept much of that in our design as well as faithfully translating the gameplay. Don't expect to win the game easily. This was the Dark Souls or Super Meat Boy of its day. Players didn't want to buy the game and run out of challenge at first play. The game has many ways to kill you and is unafraid to use them — which makes it all the sweeter when you finally win."
The Dark Souls of its day, eh? Sounds like a winner. Chainsaw Warrior joins an upcoming line-up of Games Workshop board game to digital conversions that includes Space Hulk and Warhammer 40,000: Armageddon.