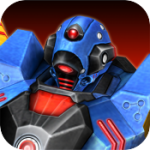 When I tell you that ExZeus 2 ($1.99) gets almost every arcade-action gaming mechanic right, I'm probably understating the truth. This is one of the most fun action games that I have ever played on iOS. As a giant flying robot, you blast your way through legions of aliens just before landing on a building to kick some alien tail – Bruce Lee style. Gameplay switches up on a dime, with intuitive controls. One minute you're riding a motorcycle in the city and the next, you're taking the fight to space in a game of R-Type. The balanced leveling system keeps you empowered as the challenges continue to grow.
The game begins with some computerized narration over a few screens. It's the year 2217 CE, over a century after the first ExZeus game, when the robot champions saved humanity from alien war machines. Now, aliens are attacking again and your robot, Minos, is once again humanity's only hope. Throughout the game, you'll be given one or two sentences of story to provide context for each mission setting. Yes, the story is cookie cutter and you've heard it in some fashion before in movies and gaming. But so what if the story is forgettable? The arcade action is totally magnetic.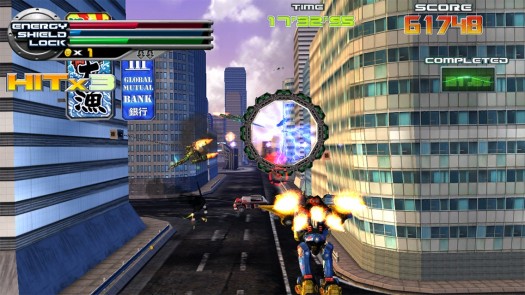 ExZeus 2 primarily works like Space Harrier. Using gyro controls, you steer Minos out of enemy fire, while joyously blasting away at aliens. Periodically, players will spot upgrades that replenish their health or shield. However, the best upgrades are always the firepower. Picking up your spread shot gives you the feel of raining multiple shots of hell down on these pesky invaders.
It is great that a game like this can maintain so many explosions and aliens on the screen, without any noticeable frame-rate issues. One of my favorite stages was Death Canyon, which was dubbed a "past civilization." This planet was a mix of the Grand Canyon with Egyptian and South American inspired architecture. The detail and vibrancy in the landscapes and aliens are a touch above other games on the market. Minos is blasting turrets, aircraft and other flying aliens as points tally up on the HUD, without the stutter that you might find in less remarkable action games. Also the HUD reports a healthy lineup of information (such as health, shield, points, time remaining and level completion status) without ever feeling too cluttered.
What really makes this game an instant win is the inspired diversity in each level. After getting my Space Harrier on, I landed on my first building and was attacked by alien hounds. I quickly gave them a few uppercuts and roundhouse kicks with Minos. A robot that also gets down with a little MMA, how cool is that? There is one caveat. You will have get used to the Virtual Pad the first few times the game switches over to it from the gyro controls, primarily for land battles. The left and right movements can feel a little awkward and restricted at times. I still enjoyed doing my robo-kicks, but the game lost some of the fast pacing of the flying sections.
Minos also operates a motorcycle, which is downright awesome for a robot. Once again, you're using the Virtual Pad. However, the pace picks up during these moments as you drift into enemies to knock them down. It takes some quick reflexes to navigate with the bike, but you'll enjoy it once you get the movement down. The Virtual Pad works best on those R-Type style levels, where you pilot your robot up through space.
I especially dug the big boss battles. It's during these battles where you really feel how smooth the gyro controls are. You can quickly dodge alien-fire and then target those glowing weak points. After besting a boss, you collect additional coins that can be used to level up the usual cache of health bar, defensive shields and weapons power ups.
Overall ExZeus 2 is a superb action-arcade game, with smart level design. The diverse landscapes kept me glued to this alien adventure as I racked up points and leveled up Minos. I only wish there was some Game Center support instead of the canned leaderboard. Our community has been chatting about this game on our forums so be sure to check out what they're saying as well.