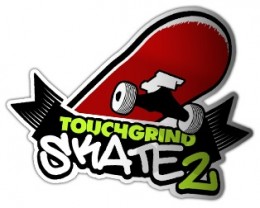 Last October Illusion Labs sort of casually announced that Touchgrind 2, the sequel to their mega-hit iOS skateboarding game, was in the works. The original Touchgrind ($4.99) was a landmark in the iPhone's history, showing the impressive 3D visuals and multitouch controls that the device was capable of all the way back in 2008.
Really the only knock against Touchgrind was that its top-down viewpoint made it hard to tell where you were going, and thus hard to string tricks together in a nice line. Because of this Touchgrind felt a bit tech demo-y, but the team at Illusion Labs rectified that problem with their follow-up title Touchgrind BMX (Free) in 2011, pulling the camera back a bit for more of a 3rd-person feel, and it worked brilliantly.
Today, I'm very pleased to present the first footage of Touchgrind Skate 2, the official name for the sequel, and it pleases me even more to note that Illusion has taken the feedback on the original to heart and pulled back the camera for a more friendly skating experience. Check it out.
Of course, Illusion Labs is known for bringing impressive visuals, and Touchgrind Skate 2 is no different. That is one nice looking game right there. It will be very interesting to see how it stacks up to True Skate ($1.99), in my opinion the current king of the iOS skating hill. Personally I think there's plenty of room for multiple skateboarding titles on the App Store, and competition typically breeds innovation, so I'll definitely be excited to see how Touchgrind Skate 2 makes its mark when it hits later this year.