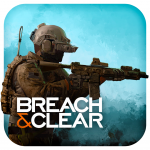 We've been beyond stoked for Gun Media's Breach & Clear since we first heard rumblings of it appearing on the show floor of PAX East. In a nutshell, the game is a top-town squad-based strategy title where you control a team of elite dudes who, per the shockingly appropriate title of the game, both breach and clear rooms filled with bad guys.
We got a long look at the game back at GDC, so, if you need a refresher be sure to check out this video from E3. Keep in mind, this was a few months ago, and the game has (likely) changed a fair bit since then as they ramp up to release:
Back then, we were more than a little worried about just how free to play the game looked. I mean, with all the various currencies ever-present in the game's UI, it seemed like Breach & Clear was on cruise control to the "Ugh this is a cool game but I wish I could just pay for it and play it" offramp on the App Store super highway.
Here's some fantastic news, straight from executive producer Robert Bowling: "Our focus is entirely on gameplay and as we got further into development, we kept having to make tough choices between gameplay and free-to-play. Ultimately, we decided, to deliver the best Breach & Clear experience to our audience, we would need to make all of these features available upfront with the purchase of the game."
Now this is a trend I can totally get behind. Breach & Clear is launching sometime this summer for the reasonable price of $3.99. I can't wait.