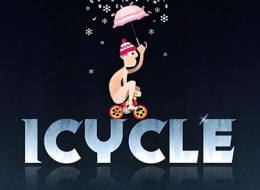 Chillingo and Damp Gnat, the studio behind the incredibly cool artsy iPad puzzle game Wonderputt (Free), are teaming up to bring us Icycle: On Thin Ice, a game about a naked dude on a bike. No, seriously.
Icycle, as the strange spelling of its title might tell you, has you riding a bicycle across surreal environments and kissing half-fish-half-human characters. It controls mostly like a platformer, but as you might expect from this developer Icycle is filled with tons of abstract design and beautiful visuals. Check it out.
I really enjoyed Wonderputt when it hit the iPad last year, and was captivated by the brig demo of Icycle. It's just so strange, I love it. It will be nice to sit down with it in a less hectic setting and really dig into the game, as I think it's going to be another great fit for the iOS platform. Icycle is scheduled to hit this summer, so add it to your TouchArcade (Free) Watch List to get alerts when more news comes along.