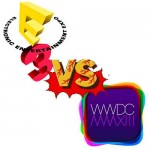 Following the traumatic experience of WWDC and E3 landing on the same week two years ago, we've steeled ourselves and have a way better game plan in place to handle both events this time around. Or, that's what we're fooling ourselves into believing. It'll be OK, right, guys? …Guys? Anyway, since we're going to be all over the place, coordinating for both events is going to be a little weird if you're a developer that's looking to meet up.
Actually, WWDC selling out in two minutes flat has made that event way more than a little weird for us, as the usual suspects that come to conventions like GDC, PAX, and others largely didn't get tickets. So, we've really got no idea what to expect as far as what's going to come out of WWDC aside from any surprises during the keynote tomorrow.
If you're a developer attending WWDC, the best way to get in touch with me and Jared is via Twitter. I'm @hodapp and Jared is @JaredTA. We'll also be monitoring @TouchArcade proper, but our personal ones are way better. We've got a few appointments, but by and large will be hanging out in the back lobby of the San Francisco Marriott Marquis. Swing on by whenever you're not in a session and we'll either schedule you something to come back if we're busy, or you can hit us up on Twitter, or whatever else makes sense. I'm thinking WWDC is going to be pretty laid back, so, come when you can.
The only time I'm not planning on being in the Marriott lobby is on Tuesday afternoon when I'll be speaking at altWWDC where I'll be hosting a talk at 2:30 on Tuesday with a panel immediately after. I think both will be live streamed on Ustream, so keep an eye on their site for any relevant URL's. I've got purple hair, Jared will likely be wearing the ceremonial San Francisco Giants hat, and Arnold will probably be eating copious amounts of bananas. Come stop by!
As far as E3 is concerned, we're going to be going crazy covering everything on the show floor and attending events from larger publishers… But, if you'd like to meet up somewhere, again, Twitter is probably the way to go. It's always incredibly difficult to schedule anything with how much is in motion at E3, typical connectivity challenges, and all that. So, again, hit us up on Twitter when you're free and we'll see what we can do!
If you're not a developer, strap in for a tsunami of content next week. It's going to be… crazy.