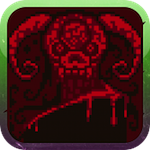 Deep Dungeons of Doom ($1.99) is a really neat … dungeon crawler thing? We don't know what to call it, actually. In the game, you play as various heroes on a quest of some sort that leads them to the deepest, darkest, and doom-iest dungeons across a fantasy-ass fantasy land. Each dungeon is broken into several single-pane sections, each of which houses a monster to fight. You're armed with just an attack and defend command. The penalty for missing either way is pretty severe — this game doesn't hold many punches.
If you're still kinda scratching your head, check out our video of the game in action. Eli and I spend about 20 minutes in various doom-y dungeons and fight everything from skeletons to headless horsemen.
You know, I should also note that DDD's production values are off the chains. The look, the animations, and the sound work are all superb components of a pretty awesome whole. If you've been looking for a new, mobile-friendly RPG to tool around with, this is it.