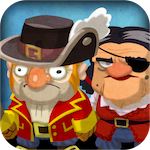 Scurvy Scallywags is an enormous breath of fresh air if you've been spending a bunch of time with the current generation of match-3 games. You know, the kind that ask for real money in exchange for power-ups constantly? Yeah, those. Scurvy, quite refreshingly, is a real puzzle game that tasks you with matching like items. It's not gross. In fact, it is pretty charming. From the art, to the character and sound design, all the way to its power-ups, it's a pretty inviting game that has cheeriness and style to share. Also, pirates. And skeletons.
If I had to compare Scurvy to anything, I'd throw Puzzle Quest out there. In Scurvy, you control a pirate avatar on a quest that'll see him visit several island and solve a lot of match-3 puzzles. Unlike Quest, your character and the enemies are a part of the puzzle. You make matches to force them into a fight.
If that's confusing, check out our video. I think it does a good expressing how to play, as well as what to expect. Though, admittedly, Eli and I were having problems wrapping our heads around the game's collapse mechanic:
The thing I find myself digging the most about this one is just its… old-school kind of style. I grew up on SCUMM and Sierra On-Line games, so I melt whenever a title takes cues from them.
It's kinda odd that Scurvy hasn't hit the NZ store just yet since it's supposed to hit later tonight in the US at 11PM EST. We'll add a link when if it pops up or update this story if we get confirmation that it's not coming. Either way, if you add the game to your Watch List via our app, you'll know what's up.
UPDATE: it's up in the NZ store now. Yay!
International App Store Link: Scurvy Scallywags, $.99 (Universal)