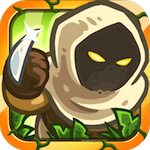 Here's some awesome news: Kingdom Rush Frontiers, the upcoming follow-up to, basically, everyone's favorite tower defense game, is coming out this June 6 across iPhone, iPad, and iPod touch. Creator Iron Hide Games has put the following trailer celebrating this reveal, giving us all a glimpse of what's to come in this new one:
As you'll see, Frontiers appears to double-down on the mechanics that made the first one click with so many folks, while introducing a bunch of new assets and towers. Eight new towers, specifically, are being added on top of nine new heroes and 40 new enemies that range from giant scorpions to angry gorillas. Of course, there's also new levels.
June 6 ain't all that far away, so expect some impressions from us in the near future. We're pretty stoked to give Frontiers a shot — the first game was pretty good, after all.